Helen Shiller
Jump to navigation
Jump to search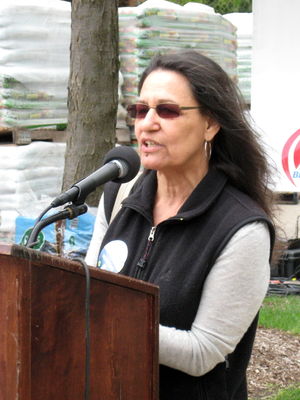 Template:TOCnestleft Helen Shiller is an activist and a Democratic Party Alderman in Chicago.
North Americans in Support of Angola
The Angola Support Conference ran from May 28 - 30, 1976 in Chicago. The event was sponsored by the U.S. Out of Angola Committee and the National Conference of Black Lawyers.
Helen Shiller and Cinta Johnson of the Intercommunal Survival Committee were delegates at the conference.[1]
IVI-IPO Activist
In June 1980, Helen Shiller stood as a candidate for the position of at-large Delegate to the Board at the Annual Convention of the Independent Voters of Illinois-Independent Precinct Organization.[2]
In 1981 Helen Shiller was on the Board of Directors of Independent Voters of Illinois-Independent Precinct Organization[3].
Chicago Committee to Defend the Bill of Rights Bicentennial Celebration
On November 10, 1991 Helen Shiller was listed as a member of the 1991 Tribute Committee for the Chicago Committee to Defend the Bill of Rights Bicentennial Celebration.[4]
Progressive Chicago
A Progressive Chicago report to Keith Kelleher, dated October 27, 1993 listed several more contacts and potential members of the organization.
It stated that Alderman Joe Moore had agreed to participate and that State senator Alice Palmer was interested and was awaiting a call from Peter McClennon.
Members had been allocated people to contact;
Others targeted for contact, but not assigned, included Clem Balanoff, Sue Purrington of NOW, Jane Ramsey at JCUA, Erlean Collins, Westside Black elected officials and PUSH, TWO and Joe Gardner's Project Hope.[5]
Jack Siegel tribute
Chicago Committees of Correspondence held a tribute banquet to 88 year old member Jack Spiegel, on October 3, 19993, with 250 in attendance.
special guest included State Senator Jesus Garcia, Alderman Helen Shiller, Harold Rogers from the Coalition of Black Trade Unionists, Carole Travis from the UAW, Larry Reagan from the Amalgamated Clothing and Textile Workers Union, Bernice Bild from the Coalition for New Priorities, Camille Odeh, from the Coalition of Palestinian Women and Meca Sorrentini from the Puerto Rican Socialist Party
Keynote speakers CoC co-chair Manning Marable. Illinois CoC co-chairs Sandy Patrinos and Mildred Williamson presented the awards. Maggie Brown sang songs, some written by her father Oscar Brown.[6]
Committees of Correspondence connection
Helen Shiller also had ties to Communist Party USA splinter group Committees of Correspondence.
According to Chicago DSA's New Ground of September 1994[7];
"Over 500 delegates and observers (including 140 from Chicago) attended the founding convention of the Committees of Correspondence (CoC) held here in Chicago in July.
New Ground reported that speakers…included Charles Nqukula, General Secretary of the South African Communist Party, Dulce Maria Pereira, a senatorial candidate of the Workers Party of Brazil, Angela Davis of CoC, Andre Brie of the Party of Democratic Socialism of Germany (a revamp of the old East German Communist Party). Guests during the Convention included Cook County Commissioner Danny Davis, Chicago Aldermen Helen Shiller and Rick Munoz, a representative of the Green Left Weekly of Australia and a representative of the Cuban Interest Section."
In 1994 Helen Shiller, Chicago was listed on a "Membership, Subscription and Mailing List" for the Chicago Committees of Correspondence, an offshoot of the Communist Party USA.[8]
"Progressive Chicago" event
200 people attended a panel presentation on "The Progressive Potential of Chicago City Politics" December 8 1998 at the University of Chicago. The panelists[9]included Jackie Grimshaw, Alderman Toni Preckwinkle, Alderman Helen Shiller and Bernard Craighead. The event was sponsored by the University of Chicago Democratic Socialists of America Youth Section and the Hispanic Association for Cultural Expression and Recognition.
DSA endorsement
Among the Chicago Democratic Socialists of America endorsed candidates[10]in the 1998 Chicago municipal elections were Helen Shiller and Barbara Holt.
Honoring Frank Wilkinson
Chicago Committee to Defend the Bill of Rights organized a "Celebration of the The Dynamic Life of Frank Wilkinson (1914-2006)" on Sunday October 29, 2006. Wilkinson had been a leader of the Communist Party USA, the New American Movement and Democratic Socialists of America[11].
Honoring Committee members included Helen Shiller .
Crossroads Fund
In 2007, Helen Shiller was an honorary host for the 25th Anniversary of the Crossroads Fund.[12] The fund, founded in 1981 supports community organizations working on "issues of social and economic justice" in the Chicago area.
External Links
References