Helen Clark
Jump to navigation
Jump to search
Helen Elizabeth Clark is a committed socialist and is the former Prime minister of New Zealand. She currently holds the position of Administrator of the United Nations Development Programme - the third highest position in the United Nations. She is, in addition, the chair of the United Nations Development Group.
She was Prime Minister of New Zealand from 1999 to 2008 and the leader of the NZ Labour Party from 1993 to 2008. She is married to Peter Davis, a Professor at Auckland University.[1]
Clarke has always been known for her strong personality and outspoken views. An ardent champion of the arts, devoted pacifist, keen environmentalist, and avid outdoorswoman, Clark's popularity had been increasing since the mid - 1990s. Her new coalition government was committed to such liberal policies as "the reduction of inequality" (with a special emphasis on "the inequities dealt New Zealand's native Maori population"), "a sustainable environment", and "improvement in the greater social and economic welfare of the people".[2]
Early life
Helen Elizabeth Clark born 26 February 1950 in Hamilton, the eldest of four daughters of a Waikato farming family. Her mother, Margaret McMurray, of Irish birth, was a primary school teacher. Her father, George, was a farmer.[3]
Education
Helen Clark was educated at Epsom Girls' Grammar School.[4]
She graduated, at the University of Auckland, with a BA in 1971 and an MA with First Class Honours in 1974.
She majored in politics at university and her thesis focused on rural political behaviour and representation.[5]
Clark also studied abroad on a University Grants Committee post-graduate scholarship in 1976, before once again lecturing in political studies at Auckland while undertaking her PhD (which she never completed) from 1977 until her election to Parliament in 1981.
An insight as to what makes Clark tick
Clark says she grew up in a home with "little spontaneous emotion", with a "dominant" father and a "distant" mother. "I think I was equidistant from both my parents," Clark told interviewer Virginia Myers for the book "Head and Shoulders".
"I had a very narrow social experience. There are still [as of 1984] whole slices of New Zealand I've never been in contact with and don't feel at ease with. Like the business community. I've never had much to do with middle class urban New Zealand."
Clark's headmistress at Epsom Girls Grammer remarked that she seemed adrift and without a sense of purpose in life.
Clark noted of herself: "From the time I was 14 or 15, I began to have completely different and more liberal attitudes from my parents through living in Auckland, and my father and I argued a lot".
"My parents were inclined to be rigid on moral and social issues. For instance, I dropped [out of] church, and we clashed over that."
Clark's father joined the National Party and Clark claims he used to bail her up during visits back home "like a vulture preying on something". Her relationship with her parents, she says, became more conflict-ridden as a result.
"My parents are racist in the way that many rural New Zealanders are racist. I consciously rejected them at that time and didn't see much of them for some years."[6]
Some undesirable traits
Onetime deputy editor of the New Zealand Listener, Denis Welch, in his recently released book "Helen Clark: A Political Life", claimed that the former prime minister was big on holding grudges, saying "she has the memory of an elephant, and never forgets a name, a face, or a grievance".
Moreover, he noted that she was also a "great gossip" who loved to "know stuff" about people because of the power it would bring.[7]
Lecturer at Auckland University

Prior to entering the New Zealand Parliament, Clark was a lecturer at Auckland University for eight years in the Political Studies Department.[4]
She was a junior lecturer in political studies at the University of Auckland from 1973 to 1975.[8]
Political activism
As a teenager Clark became politically active, protesting against the Vietnam War and campaigning against foreign military bases in New Zealand. She has declared herself agnostic.[9]
The eighteen year old, wrote Clark years later, "seemed to drift naturally towards the political causes on campus, like the campaign against Omega foreign military bases. That was the first demonstration I went on and I really enjoyed it."[6]
She also protested against nuclear tests in the South Pacific.
Involvement with ant-Apartheid movement
In 1970, Clark joined the Maoist dominated pressure group Halt All Racist Tours which was against sporting contacts with South Africa. In the early 1970's, she was on the HART executive and close to Maoist/Stalinists Mike Law and Trevor Richards.[10]
Clark said this of herself: "I thought a lot about racism and joined Trevor Richards' Halt All Racist Tours committee. During those years I had a sense of finding my identity through being politicised."[6]
PPP connection
The Polynesian Panther Party worked closely with the Marxist controlled Citizens Association for Racial Equality (particularly a young Maoist named Joris de Bres) and the Auckland Committee on Racial Discrimination (ACORD).
A young lawyer named David Lange did a lot of free legal work for the party and a young student radical named Helen Clark was also very helpful.
Vietnam War protests
In 1969, Clark protested against the Vietnam War alongside such well known leftists as Tim Shadbolt.[11] Working Womens' Resource Center.
Greeting peaceniks
In 1982, Clark greeted the peacenik crew of the vessel "Pacific Peacemaker" which was sailing the Pacific protesting at the presence of American Trident missile carrying submarines.[12]
Clark against U.S. warship visit
In September 1983, Clark spoke with veteran peacenik Owen Wilkes who had been involved in protests in Wellington against the visit of the warship, the U.S.S. Truxton.[13]
Clark prefers Russian Warships to American ones
In 1987, National Party M.P., Michael Cox, while in parliament, had this to say of Clark, who was then a possible Minister of Defence: "The M.P. for Mt. Albert has said in the House that she would rather have Russian Ships in the Pacific than American ones" and "she has made frequent trips to Russia, has a card for Aeroflot".[14]
Putin connection?
Bob Harvey on Vladimir Putin's possible undercover visits to New Zealand in the 1980s.
"I was suddenly a man on a mission. I realised it was a long shot so I started with former Labour Cabinet minister Warren Freer. Freer and I had worked together on the 1972 election campaign that catapulted Norman Kirk into the prime minister's job, and I knew that, in 1955, he was the first Western politician to visit China since the communist revolution there six years before. I took early photographs of Putin and asked Freer if he recalled this man, could he remember anything about him? It took a while for Freer to remember, but he did. He thought his name was André, a Bata shoe salesman. He remembered a man exactly like Putin with more hair who asked a lot of questions, loved chocolate biscuits and had "an eye for the ladies". He recalled André's interest in the young Helen Clark, a dead ringer for Joan Baez, minus the guitar. I was on my way.
The next step was to visit one of Labour's greats, the Right Honourable Bob Tizard, Kirk's deputy prime minister and at that time the longest-serving member in the Labour Party. Tizard had a rapier brain and a memory to match.
He remembered the Bata salesman who asked everyone questions about where socialism was heading in New Zealand, and who the leading advocates and dissenters were. He wanted to know about the unions, and the chances of various politicians, and about the political direction of the country. But Freer couldn't quite pin it down as being Putin.
I moved on to the doyen of politicians, Jonathan Hunt — Speaker of the House, the longest-serving MP, and one of Helen Clark's favourites. I took a series of photographs of Putin at different ages. Hunt was clear in his recognition of the young man. He said he'd stayed at the Great Northern Hotel in Queen St, Auckland, and the two had had a drink together there once. He said he liked the young shoe salesman enormously."
Clark and peace activist pedagogues
On October 23 1984, Clark and fellow Labour M.P. Russell Marshall attended a delegation of teachers concerning peace activism. The delegation comprised:
The minister was asked to fund the "Peace van" and fund Sally's trip to Melbourne to represent New Zealand at the Australian Conference on Peace Education (to take place in October 27-28). They also asked for the inclusion of "peace studies" in schools and for a Commission for Peace and Disarmament for New Zealand in support of the U.S. Year of Peace in 1986.[15]
Peace movement requested link with parliamentarians
On October 25 1984, Jim Chapple had a meeting with Clark and briefed her on how the Peace Movement wanted a direct independent link with parliamentarians.[16]
Leader of anti-U.S. cabal
In 2003, ACT Party M.P. Ken Shirley made the following observation of Clark, who at this point was the Prime Minister: "Prime Minister Helen Clark's clear inability to confront her ghosts will cost New Zealand dearly. It was she who led the Labour Party's anti-US cabal in the 1980s, and it was this group that was determined to add the unnecessary Clause 11 to the 1987 legislation aimed at destroying the ANZUS Alliance."
(ANZUS stands for Australia, New Zealand, United States).[17]
Call for withdrawal from all military alliances
Clark moved a petition in parliament on September 24 1985, calling for withdrawal from all military alliances. This was refered for consideration. The leader of this petition was Canadian ex-pat and veteran peacenik Larry Ross "and 17,075 others".[18]
Peace supporters "not communist", Clark claims
On June 3, 1986, the Press reported that Clark claimed "peace supporters are not communists."[19]
Meeting with Auckland branch of N.Z. Council for World Peace
In 1989, Clark, along with fellow Labour M.P. Russell Marshall, met with the Auckland branch of the pro Soviet Socialist Unity Party front, the New Zealand Council for World Peace, which was also an affiliate of the Soviet controlled World Peace Council.
Nuclear test ban petition
On July 9 1987, Clark tabled a petition in parliament from A.P. Quinn "and 311 others", requesting the government appeal for a nuclear test ban. Clark moves that the petition "...be referred to the government for the most favourable consideration". A.P. Quinn is Arthur P. Quinn, of the Waiwhetu Peace Group. Quinn is a member of the pro-Soviet Socialist Unity Party.
"They have known each other for many years"
Mike Jackson and Helen Clark.
Clark a "parliamentary peace stalwart"
In May 1986, Clark was described by peace activist John Gallagher as a "parliamentary peace stalwart".
Danish peace award for Clark
On April 28 1987, Clark was awarded the second of the two Danish Peace Foundation awards, along with Maori extremist Hilda-Halkyard Harawira.[20]
Further, the Press was to note that she was awarded the prize for her "eminent contribution to New Zealand's determined and democratic responsible nuclear-free policy."[21]
WWRC connection
Working Womens' Resource Center with Jo Taylor, Crissy Aro, Alex Woodley, Helen Clark.
U.S./N.Z. intelligence gathering facilities enquiry
On September 24 1985, Clark moved a petition in parliament calling for an enquiry into the New Zealand-based intelligence gathering facilities at Tangimoana and Black Birch, which was referred to the government for consideration. The following people were behind this petition:
"And 1065 others".[22]
Clark's fear - phone calls being monitored by U.S.
In 1986, Clark expressed concern that her long-distance phone calls were being monitored by U.S. sources: "They have the surveillance equipment to pick up long distance conversations and I believe mine would be of interest to them."[23]
Support for Latin American Revolutionaries
Helen Clark has had a long history of strong affinity for Latin American revolutionary movements.
Addressing Latin America Evening
On November 14, 1981, Clark addressed a "Latin America Evening" gathering at the Trades Hall, which was sponsored by the Labour Party and organized by the Marxist-controlled Auckland Latin America Solidarity Committee.[24]
Accusations against the U.S.
In 1982, Clark signed an open letter to the U.S. accusing it of planning direct intervention in Central America.[25]
Opposition to Chilean ship visit
In December 1983, Clark vigorously opposed a visit by the Chilean naval training ship Esmeralda.[26]
Push for "democracy" in Chile
On October 4 1986, Labour M.P. Fran Wilde presented Victor H. Batista's petition to parliament calling for "Democracy in Chile". Clark recommended parliament give it "most favourable consideration".
On April 10 1987, yet another petition was tabled in Parliament requesting the government appeal for a 'return to democracy" in Chile. Once again Clark moved that the petition "...be referred to the government for the most favourable consideration." The petitioners were:
"And 439 others."
Victor H. Batista was a member of the pro-Soviet Socialist Unity Party.
Petition to demand end to "U.S. interference in Nicaragua"
On September 24 1985, Clark moved a petition from the Marxist dominated Christchurch Latin America Group "and 538 others" calling for the government to demand an end to "U.S. interference in Nicaragua". This was referred to the government for consideration.[27]
Clark visits Nicaragua
In 1986, Clark visited Nicaragua along with Margaret Wilson. On her return to New Zealand, she urged the Labour Party to back aid for the revolutionary Marxist Sandinista government.[28]
Speaker at Nicaragua Must Survive Campaign gathering
On July 19 1986, Clark addressed a meeting at the Auckland University Cafe for the Marxist dominated Nicaragua Must Survive campaign.
Clark Praises Che Guevara film
In 2004, it was reported in a short interview with Clark in the newspaper the Herald, that she praised the film The Motorcycle Diaries which she said "was the story of the young Che Guevera's journey through Latin America, a continent which has always fascinated me."[29]
"Red Helen"
In Washington, Clark, not surprisingly, earned the nickname "Red Helen", a moniker earnt not just from her anti-nuclear stance but also her decision to support the communist Government in Nicaragua in 1986.[6]
Speaker at rally
On May 24 1982, Clark spoke at the end of a political rally in Aotea Square. The other speakers were:
Clark attends Philippines Marxist revolutionary meeting
In 1986, Professor Jose Maria Sison was the Chief Political Consultant for the National Democratic Front of the Philippines (NDFP), the coalition of groups which had, at that time, been waging an armed struggle for 35 years. Joma Sison was one of the founders of the Communist Party of the Philippines (CPP) and its New People's Army, in the late 1960s. He was captured during the Marcos martial law dictatorship, and spent nine years as a political prisoner, without charge or trial, enduring torture. He was released after People Power 1 overthrew President Ferdinand Marcos, in 1986. That same year he made a speaking tour of several countries, including New Zealand. Clark was among those who attended his Wellington meeting. He had, at that point, never been back to the Philippines, going into exile in The Netherlands, where the NDFP had its international headquarters.[30]
Documents link Clark with Philippine communists
It was revealed,in 1986, that when Filipino intelligence officers raided an underground safe house in Manila on the night of March 24, 1988, they not only captured leading hard liners of the Communist Party of the Philippines New Peoples' Army, but also 97 computer disks. A copy of a three-page document from one of those discs is headed: "Workshop 1: Party to Party Relations, June 13, 1986". It deals with overseas work and those who are in consultation with the International Department of the Communist Party of the Philippines. On page three, line eight, Helen Clark is listed as the "individual link" for New Zealand.
Clark visits Philippines
In early 1987, Clark visited the Philippines as chairman of the Foreign Affairs and Defence Select Committee. She was interviewed about the visit by Gordon Campbell for the then left-leaning Listener.[31]
Member of leftist unemployment committee
In 1978, Clark was a member of the pro-Soviet Socialist Unity Party influenced Auckland Committee on Unemployment.[32]
Chair at meeting of mainly left industrial activists
In 1980, Clark, by then a member of the Labour Party National Council, chaired a meerting in Otahuhu, South Auckland, on keeping the SouthDown freezing works open. The meeting was sponsored by the Labour Party's South Auckland branch and the Socialist Unity Party dominated Auckland Trades Council.
The speakers were:[33]
Support for Trade Union Education Authority
On October 30 1989, the Peoples Voice - the paper of the Stalinist Communist Party of New Zealand - reported that Clark, when at the Council of Trade Unions conference in September 1989,described the Trade Union Education Authority - an organisation completely controlled by the Maoist Workers Communist League and the pro-Soviet Socialist Unity Party - as "a success story".[34]
In 1991, Clark once again praised TUEA and talked about unions getting "involved in managing the process of change".[35]
Treaty principles in Employment Relations Act
It was reported in Red Flag - the publication of the Socialist party of Aotearoa - that when Clark had attended a Council of Trade Union conference to make a speech, veteran trade unionist and close associate of the Socialist Party of Aotearoa, Syd Keepa spoke to her on Treaty of Waitangi principles being incorporated into the Employment Relations Act, specifically around bereavement leave. She indicated that if the CTU could submit this to the ERA review committee, she would have no problem with this.[36]
Interviewed by pro-Soviet paper
In June 1987, Clark was interviewed by the Soviet aligned Socialist Unity Party newspaper, the Tribune.[37]
Meeting SPA leader
In an interview with Robert Mannion of the Sunday Times of October 24th 1993, Socialist Party of Aotearoa leader, Bill Andersen, outlined his party's priorities and plans. According to Mannion, Andersen supported the Alliance Party and believed "the main issue now is to expand participatory democracy. Beginning with MMP..."
Mannion added that Andersen "would like to have seen Alliance/Labour accommodations in crucial electorates". And interestingly "They had a good meeting with Helen Clark and Alliance parliamentary candidate Laila Harre at the Trade Union Centre recently."
Support for Kanak independence
In 1984, Clark presented a petition calling on the New Zealand Government to demonstrate support for Kanak independence to Parliament before the South Pacific Forum in Tuvalu.
(The Kanak people are the indigenous people of New Caledonia).
Clark wants French out of Pacific
In 1995, Clark attended a Socialist International meeting in Sydney, Australia. Whilst there, she made a strong call for the French to leave the Pacific.[38]
Support for "democracy" in Fiji
It was noted that from August 7-8 2000, a meeting was organized of the Asia-Pacific Committee in Wellington, hosted by the New Zealand Labour Party and Prime Minister Helen Clark. They welcomed Mahendra Chaudry to the gathering. He thankedd the International for their unequivocal support during the assault on the Fiji parliament where he and others were held hostage, and called for a concerted plan of action to restore democracy and constitutional rule to Fiji. Phil Goff, Foreign Minister of New Zealand spoke for all of them in emphasising the International's solidarity with the Fiji Labour Party and with any and all of their members who come under threat. Socialist International IN
Apologies to Samoa for colonial era treatment
In 2002, Clark took an unprecedented step and said sorry for New Zealand's treatment of Samoa during the colonial era. Clark's apology was made in Apia during the 40th anniversary of Samoa's independence and televised live to New Zealand where Samoans applauded the prime minister's gesture.[39]
N.Z. "a racist country" says Clark
In June 2010, the British actor Ian McKellen, when visiting New Zealand , noted, in a brief interview, that when he was in this country acting in the Peter Jackson production of Lord of the Rings, he spent a little time talking with P.M. Clark. To his surprise she commented that "New Zealand is a racist country" and that as P.M. she was going to deal with it.[40]
Anti-Neo-Liberalism
In February 2002, Clark gave a speech at the London School of Economics etitled: `Implementing A Progressive Agenda After Fifteen Years Of Neo-Liberalism'.[41]
"Neo-Liberalism" is a term used almost exclusively by the left to describe an economic system which, in their view puts emphasis on the free market and on private enterprise.
Clark's political preference for Al Gore
In March 2003, referring to the U.S. led coalition's actions in the Iraq War, Clark told the newspaper Sunday Star Times that, "I don't think that September 11 under a Gore presidency would have had this consequence for Iraq." She later sent a letter to Washington apologising for any offence that her comment may have caused.[42]
Clark seeks republic
Clark was to note: "I think it's inevitable that New Zealand will become a republic and that would reflect the reality that New Zealand is a totally sovereign-independent 21st century nation 12,000 miles from the United Kingdom."[43]
Clark believes a New Zealand republic is "inevitable" and her term in office saw a number of alleged moves in this direction, under her government's policy of building national identity. Examples include the abolition of appeals to the Privy Council in London and the foundation of the Supreme Court of New Zealand, the abolition of titular Knighthood and Damehood honours (restored in 2009), and the abolition of the title "Queen's Counsel" (replaced by "Senior Counsel").
A secular republic
In 2002, Clark made a now infamous comment at the state banquet for the Queen that "New Zealand is now a secular country", and grace would not be said at the meal.[6]
Helen Clark and China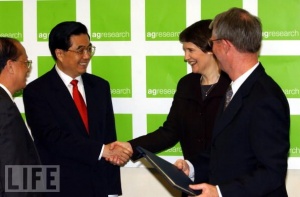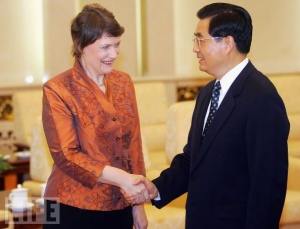 A former New Zealand government courted China and France in an attempt to curb American and Australian influence in the Pacific, according to a leaked diplomatic cable leaked by WikiLeaks in November 2010.
New Zealand is also said to have formulated its anti-nuclear legislation, which caused a deep rift with Washington, because of a desire to trim its defense budget as well as for publicly stated ideological reasons.
The claims are made in a 2004 cable released by the WikiLeaks website under the heading "What we could not say in the mission programme plan", the Dominion Post newspaper reported.
The cable said New Zealand's Labour Party government led by Helen Clark flirted with China and France in the early 2000s "to curtail US and Australian influence in the region," it said.
During a visit by the Chinese vice-minister for trade, "New Zealand Trade Minister Jim Sutton publicly claimed that China was New Zealand's most important and valued trading partner, a claim that left Australian officials here scratching their heads in wonder."
It was a previous Labour government -- led by David Lange -- that introduced the anti-nuclear legislation in the 1980s, a move that led to a decades-long rift in intelligence and military co-operation between Wellington and Washington.
The cable said US officials had been told by people who were senior New Zealand government officials at the time that Wellington knew the policy would lead to New Zealand being pushed out of the regional ANZUS alliance with the United States and Australia.
Exclusion from ANZUS would thereby lessen "the country's defence spending requirements at a time of fiscal and economic crisis," the cable said.
New Zealand's defence spending was criticised as being too inadequate to cover even "replacement costs for basic coastal defence hardware" and the defence force as having not enough troops for effective peacekeeping operations.[44]
The peoples friend
In a report in the People's Daily, Chinese President Jiang Zemin referred to Clark as an "old friend". He hoped to "establish bilateral long-term and stable overall cooperative relations with a healthy development geared to the 21st century", and "broad prospects for bilateral economic cooperation". Clark had strongly supported China's entry into the WTO.[45]
Clark eventually initiated a free-trade deal with China, making New Zealand the first Western nation to do so.
Relations with U.S.
United States diplomatic cables leaked by WikiLeaks in November 2010, explain why officials appear to have been caught on the hop in 2009 when American Secretary of State Hillary Clinton announced the resumption of intelligence sharing between the two countries - the deal was supposed to be top secret.
The cables confirm that it had been the intention of both countries to keep the news that intelligence collaboration had been "fully restored" secret and a classified American embassy cable sent to Clinton on January 6 warned her not to acknowledge the position in public ahead of a visit to New Zealand, which was later postponed.
But Clinton had, in fact, already lifted the lid on the news, announcing the decision to restore intelligence sharing at a press conference with Foreign Minister Murray McCully in Washington in October last year.
The announcement was reported at the time though it clearly caught New Zealand officials on the hop.
The New Zealand government refused to comment at the time despite Clinton labelling the decision to resume intelligence sharing cooperation as "very significant".
Behind the scenes, senior government sources and officials were clearly taken by surprise by Clinton's announcement - for reasons which the cables now make clear.
The cables show both countries were also determined to keep secret a significant shift in the post-Anzus relationship in 2007, when the United States proposed loosening its ban on military exercises and training.
The proposal was put to the Helen Clark government but in a cable headed "US Discomfort at NZ Delay" it was made clear that the Government's delay giving a response risked a set back in relations and "risked tarnishing what should be a real positive for the relationship".
The deal was not confirmed till February the following year.
The high level of sensitivity surrounding the shift was demonstrated by both countries agreeing to keep the news "out of the public domain" but it appears that the demand for secrecy was mostly on New Zealand's side.
"New Zealand is eager to avoid any publicity about this new approach, will only say anything under "extreme duress" and will coordinate closely with the US side before saying anything," the cable says.
New Zealand diplomats were privately briefing US officials about their frustration over the hold-up. Ministry of Foreign Affairs and Trade Deputy Secretary John MacArthur and America's Division Director Carl Worker "each….said privately in the course of the day how frustrated they had been by the delays in securing consensus for this response. It was clear that every saying that much was sufficiently sensitive that neither wanted to say it in front of the other", according to the cables.[46]
NZ Labour Party
Clark has worked actively in the New Zealand Labour Party for most of her life.
In 1971 - the same year she joined the party - Clark assisted Labour candidates to the Auckland City Council.
In 1974 she sought the nomination for the Auckland Central electorate, but lost to Richard Prebble.[47]
In 1975, Clark contested Pikao for Labour and lost by 6174 votes.[48]
In 1985, Maryan Street was elected onto the Labour Party Policy Council. She was described in the September 2 issue of the Tribune as one of the "strong anti-nuclear campaigners."
Others, who also happened to be of an equally left-wing bent who were voted onto the council included; Rob Campbell, Jim Anderton, Rex Jones and Helen Clark.
She has been elected to the New Zealand Executive of the Labour Party each year from 1978 - September 1988 and again from April 1989. She has served on the Party's Policy Council, as president of the Labour Youth Council, executive member of the Party's Auckland Regional Council and as secretary of the Labour Women's Council. She chaired the University of Auckland Princes Street branch of the Labour Party during her studies, becoming active alongside future Labour Party politicians including Richard Prebble, David Caygill, Margaret Wilson, and Richard Northey. She has represented the Labour Party at a number of international fora. She was elected as member for Mt. Albert in 1981 with 11,326 and a majority of 5,337.[4]
In 1984, Clark held the Mt. Albert seat by 6207 votes.[49]
In 1987, she once again held Mt. Albert - this time by 5337 votes.[50]
In 1987, Clark was on the advisory committee on External Aid and Development. Renumeration was $85 a day.
She represented the New Zealand Labour Party at the congresses of the Socialist International and of the Socialist International Women in 1976, 1978, 1983 and 1986, at an Asia-Pacific Socialist Organisation Conference held in Sydney in 1981, and at the Socialist International Party Leaders' Meeting in Sydney in 1991.
Pressure to marry
Clark, despite her feelings about marriage, tied the knot with her partner of 5 years, Peter Davis - a sociologist from the University of Auckland - shortly before the 1981 general election. She was under pressure to marry from some members of the Labour Party.
In her biography, it is noted that she cried throughout the ceremony, although she attributes that to a headache.[51]
The marriage took place at hard-left Labour M.P. Jim Anderton's home.
Clark was to say of her marriage: "I felt really compromised. I think legal marriage is unnecessary and I would not have formalised the relationship [with husband Peter Davis] except for going into Parliament. I have always railed against it privately."
Moreover, retired political studies lecturer and Marxist academic, Ruth Butterworth, a long time friend of Clark's, is quoted in Brian Edwards PR-piece, Helen, remembering the black mood at the "wedding".
"She was resistant up to the last minute. I mean, she was crying on the day. It was just so awful because it was so deeply against her principles."[6]
Clark on accusations about her private life
Clark, after the 1981 elections was to note: "It was a difficult campaign," Clark wrote in an essay for the book Head and Shoulders back in 1984. "As a single woman I was really hammered. I was accused of being a lesbian, of living in a commune, having friends who were Trotskyites and gays...[6]
Clark's curious company
By 2003, Clark had assembled a network of very powerful women of a similar left-wing bent. Most of her key advisers - including long term aide Heather Simpson were female. Many were lesbian.
Further; her friend Margaret Wilson had been promoted to Attorney-General. Wilson, a law graduate, was there when Helen Clark was first elected to Parliament in 1981.
Dame Silvia Cartwright - an otherwise relatively undistinguished judge whose biggest claim to fame was the feminist cause-celebre heading the first Cervical Cancer Inquiry in 1988 - was made Governor-General. Cartwright boasts in her CV of her strong work on "womens issues" both in New Zealand and for the United Nations.
"Since 1993, she has been a member of the United Nations committee monitoring compliance with the United Nations Convention to Eliminate All Forms of Discrimination Against Women (CEDAW)."
Cartwright's husband Peter became the Government appointee heading the powerful Broadcasting Standards Authority, which regulates what broadcasters are allowed to say, and he also served on the Film and Literature Board of Review regulating censorship issues.
Sian Elias, who is by contrast recognised as a talented jurist independent of gender issues, rounds off the list after her appointment as Chief Justice. Elias is married to businessman Hugh Fletcher, and is a long time colleague of Margaret Wilson's.[6]
Clark a feminist
In 1989, after becoming deputy Prime Minister, Clark described herself as a "feminist."
She once described how, in part, she evolved these attitudes: "I remember being greatly influenced by Kate Millett's Sexual Politics and Germaine Greer's The Female Eunuch when I was about 20."
Clark then goes on to detail being bailed up one day at a party by a male colleague from her university days, complaining about what the Government was doing to the country.
"I finally flipped and said, 'Don't you f...ing well speak to me like that! If you knew how many bloody hours a day I worked and now I come to a party at midnight on a Saturday night and have a f...ing fool like you screaming at me about how hard you work!'."
On men's emotions in parliament she had this to say: "Men in particular lose control entirely. They scream and shout and are personally abusive. It's really quite extraordinary. I never scream and shout, that's not my nature."
There is more: "One sees men behaving very emotionally around here but they are never portrayed as being emotional. But if women are seen to be emotional they are almost written off as unable to do their job. That's why you have got to toughen up."
Clark also complained that the labour Party "...team which promoted David Lange to power is incredibly sexist and I don't see any way that a woman could ever have got admission to it. People like Moore and Prebble can't help appearing sexist. I think that's been a lot of the problem for me."
She believes this sexism is what hindered her political ambitions, as indicated by the following statement: "Part of my being overlooked for any office is because I belong to another faction in the party, but part of it is also that I'm a woman."
Clark continues with her androphobia: "I think they find most women terribly threatening...I suppress so much. I'm conscious of some of the putdowns and the sexism."
On "sexist" language in parliament she says: "Discussions around Parliament are entirely conducted in terms of 'he'. The men say it's a generic term, but I don't accept that. Of course it's a put-down!"
"Not being one of the boys" - a lamentation?: "I do see myself as a strong person, with strong opinions. The main block to being a woman in Parliament is not being one of the boys; not being in the networks they operate."[6]
Clark on children...
"I've never had any intention of having a child. I definitely see children as destroying my lifestyle. It's inconceivable that I would become pregnant. I realise my attitude is unusual, but I have other interests which crowd out everything else, and I think I'd go around the bend if my small amount of spare time was taken up by children."
"I was able to develop as a professional person with no breaks in career...I wasn't caught in the trap of the young bride who seems to stop maturing when her kids are born."
...and abortion
On abortion she says:"I've always believed that in the end it is a woman's right, in line with her own conscience, to determine whether or not she has an abortion and you know that's the view I will hold until I go to the grave."[6]
Radical left maiden speech
On April 27, 1982, Clark said the following in her maiden speech::"We believe that the state must act to correct the imbalances in our society, favouring the rich & powerful."[52]
Further, Clark stated that "...the perspectives of small states like ours must, in the end, be fundamentally different from the super-power perspectives, and we should be wary of their games."[53]
Clark's views harden
In 1984, she was to note that ""If anything, I hold my views more strongly than ever, now," she wrote. "But it makes me more cautious, more inhibited. I've learned survival skills."[6]
Radical leftist Labourite
In May 1977, Morrinsville delegate, Miss H. Clark moved a remit at a Labour party conference, that Labour should set up a commission to keep in touch with overseas trends in socialism; that a senior official be sent to the Socialist International conference in British Colombia and that the party president should attend the organisation's international meeting in Yokohama.
Clark a key figure in Parliamentarians for Global Action
In 1986, Clark was the General Secretary of the New Zealand branch of the pro-world government Parliamentarians for Global Action organisation. This was formerly known as Parliamentarians for Global Law.
As if we need further confirmation as to her globalist views, she has noted that "The issues concerning and affecting the world's working people range across and beyond national borders. They demand a transnational response and action," Clark told an international conference of female trade unionists.[6]
Clark and the Global Progress Commission
Clark appears in a photo of the 1998 leadership of the so-called Global Progress Commission - a world government wing of Socialist International.
The Global Progress Commission's mission statement - drafted with Helen as one of it's international advisers - has much to say on the need for world government.
"Globalisation is an irreversible phenomenon of our time. We have entered a New Age based on the globilisation of the world economy, and the Left cannot approach this reality in a Spirit of rejection.
"Globalisation creates the possibility of opening up a new froniter of development, where old dogmas are no longer of any use."
Among "fundamental questions" that the Global Progress Commission hopes to provide answers to: "What can be expected from coordinating economic policies or from a world economic government?"
"We do not want nationalist, populist, bloated States...the social legitimation of political power involves the role of the State with regard to citizens' welfare, educational opportunities, health, pensions and access to all the other social rights and public services - in short, social cohesion policies."
The GPC fervently believes the State, exemplified by a powerful parliament operating beneath a collective world government organisation, offers the best solution for public welfare and human progress.
"Civil society without effective political institutions creates a void which gives opportunities to the demagogues who promise to exclude the intermediaries like the parliament...or to lay the groundwork for what is called a people's democracy (or the saviour of a nation, which is even worse).
"Whenever the emotions of the people rock the ship of state, the political parties turn into a stabilising element and guarantor of [the State's] continuity."
It is, in effect, a not-so-secret society of international socialist leaders who each pledge to lend assistance and support to other members when their respective peasants get restless - assistance which even the Global Progress Commission admits is controversial.
"Because of our supporting political parties, we are accused of interfering in the internal affairs of other countries."[6]
Member of Parliament
Clark first gained election to the New Zealand House of Representatives in the 1981 general election as one of four women who entered Parliament on that occasion.
In winning the Mount Albert electorate in Auckland, she became the second woman elected to represent an Auckland electorate, and the seventeenth woman elected to the New Zealand Parliament.
During her first term in the House (1981 - 1984), she became a member of the Statutes Revision Committee. In her second term (1984 - 1987), she chaired the Select Committee on Foreign Affairs and the Select Committee on Disarmament and Arms Control, both of which combined with the Defence Select Committee in 1985 to form a single committee.
Between 1987 and 1990 Clark was the Minister of Housing and Minister of Conservation and then Health and Labour in the forth Labour Government.She has also served on the select committee on Government Administration. She was also on the caucus committees on the environment and on women on the following Cabinet Committees: Development and Marketing; Management and State Employment; State Owned Enterprises.[4]
Clark was Minister of Labour and Deputy Prime Minister in August 1989. She chaired the Cabinet Social Equity Committee and became a member of the Cabinet Policy Committee, of the Cabinet Committee on Chief Executives, of the Cabinet Economic Development and Employment Committee, of the Cabinet Expenditure Review Committee, of the Cabinet State Agencies Committee, of the Cabinet Honours Appointments and Travel Committee and of the Cabinet Domestic and External Security Committee.
Leader of the opposition
From October 1990 until December 1993 Clark held the posts of Deputy Leader of the Opposition, Opposition spokesperson for Health and Labour and member of the Social Services Select Committee and of the Labour Select Committee. After the National Party won the 1993 general election with a majority of one seat, Clark challenged Mike Moore for the leadership of the parliamentary Labour Party and became Leader of the Opposition on 1 December 1993. She led the Opposition during the National-led Governments of Jim Bolger (1990-1997) and Jenny Shipley (1997-1999).
Prime Minister of New Zealand
Clark served as Deputy Prime Minister between August 1989 and November 1990. She served for nine years as Prime Minister of New Zealand, serving three successive terms from 1999 - 2008.[4]
When the New Zealand Labour Party came into office as part of a coalition following the 1999 election, Clark became the second female Prime Minister of New Zealand and the first to have won office at an election. During her term in office women have held a number of prominent elected and appointed offices in New Zealand, such as the Governor-General, Speaker of the House of Representatives and Chief Justice.
Clark was Prime Minister and Minister for Arts, Culture and Heritage from 1999 until 2008. She also had ministerial responsibility for the New Zealand Security Intelligence Service and for Ministerial Services. Her particular interests included social policy and international affairs.
As Prime Minister, Helen Clark was a member of the Council of Women World Leaders, an International network of current and former women presidents and prime ministers whose mission is to mobilise the highest-level women leaders globally for "collective action" on issues of critical importance to women and "equitable development".
As Leader of the Labour Party, Clark negotiated the formation of successive minority coalition governments.
Some policies dear to Clark
These have included the Employment Relations Act 2000 (to bolster "good faith" employment), an extensive biodiversity conservation strategy, financial support for Maori land claims (along with a revitalized recognition of the 1840 Treaty of Waitangi between the Maori and the British), and the 2001 Disability Strategy and Positive Aging Strategy.[2]
Another policy dear to her was the contentious Care of Children Bill which aims to make gay and lesbian couples equal to traditional families, as well as making it easier for casual boyfriends/girlfriends of biological parents to be given "parental rights" over a child in defiance of objections from the other biological parent.[6]
First term
Under the new system of Mixed Member Proportional Representation, a coalition (1999-2002) - the first such type to be seen here, saw the Labour Party linked with the extreme-left Alliance Party (1999).
Second term
The Alliance Party split in 2002 over the Government's commitment of New Zealand troops to the War in Afghanistan, leading to the imminent dissolution of Labour's coalition of that party.[14]
As a consequence, Clark called an early election and then went into coalition with Jim Anderton's New Zealand Progressive Party, a spin-off of the Alliance Party (2002, with parliamentary confidence and supply coming from United Future and a "good-faith" agreement with the Green Party of Aotearoa New Zealand).
Third term
In 2005, following the election of that year, the Labour Party and the Progressive Party renewed their coalition, gaining supply-and-confidence support from both New Zealand First and United Future in exchange for giving the leaders of those parties ministerial positions outside Cabinet.
Delegate to UN Decade for Women Conference
In 1985, Clark was a delegate to the world conference that marked the end of the United Nations Decade for Women.[2]
Anti-tobacco crusade
On May 5 1990, the Press reported that Clark represented, along with Dr George Salmond, New Zealand at the World Health Organisation Assembly in Geneva. She encouraged member countries to adopt legislation to ban tobacco advertising and sponsorship. They also called for the adoption of pricing and taxation policies to achieve high real tobacco prices.[54]
World Heritage status for National Park
In 1988, Clark, as Minister of Conservation, announced that for Westland National Park had been granted World Heritage status during her visit to South Westland on Easter weekend.[55]
Working for the United Nations Development Programme
Clark was appointed as the development chief of the United Nations Development Programme On March 31 2009.[56]
She is the first woman to lead the organisation.[57]
UNDP is the largest of the independently funded UN agencies and, under its special General Assembly mandate, leads the world body's work on eradicating extreme poverty and promoting "good governance" in the developing world.[58]
The UNDP is also the lead coordinator of development ("and often humanitarian") activities of the UN system including, at the field level, through oversight of the UN Resident Coordinator system. It also leads on coordination of UN development reform and has been appointed lead agency for the Millennium Development Goals (MDGs).[59]
The UNDP also focuses on the problem of HIV/AIDS.[60]
Auckland University foreign policy expert Steve Hoadley said the UNDP post was one of "major international importance". The UNDP had the largest budget of any UN agency, Hoadley said, and was a major presence throughout the world.
It has long been expected that Clark, a foreign affairs specialist all her adult life and with a wide international network, would try for an international post.[61]
The UNDP oversees a global development network with an estimated $US13 billion ($NZ23.12 billion) in resources. It operates in 166 nations.[62]
Most of the budget is spent on programmes in Africa.
Clark is known to have had a long-term interest in a UN job. The National-led Government supported her nomination, with Prime Minister John Key lobbying and encouraging the Ministry of Foreign Affairs and Trade to support it at overseas missions. Earlier, Helen Clark gained a place on the shortlist of three but then major donors to the UNDP threw their support behind her.[63]
The current government of New Zealand strongly supported her nomination, along with Australia, the Pacific Island nations and Prime Minister of the United Kingdom, Gordon Brown. She also received the support of the five countries on the UNDP board (Iran, Haiti, Serbia, The Netherlands and Tanzania).[64]
Mr Ban's spokeswoman said she "will bring a strategic perspective coupled with fresh thinking and impetus for change."[65]
Ms Clark's nomination for UNDP Administrator was forwarded by Secretary-General Ban Ki-moon to the Assembly after an extensive selection process, which included the establishment of a senior appointments panel chaired by the Deputy Secretary-General and consisting of senior UN officials as well as two outside experts in financial and developmental economics.
She replaces Kemal Dervis of Turkey, who had been in the post since 2005 and stepped down on 1 March for family and personal reasons.[66] This means she holds the U.N.'s 3rd highest position.[67]
Women Deliver conference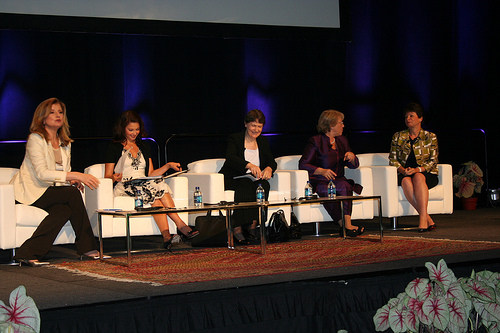 Helen Clark speaks with Arianna Huffington (founder of the Huffington Post), Ashley Judd (actor and activist), Michelle Bachelet (former President of Chile) and Valerie Jarrett (Advisor to President Obama) at the Women Deliver conference in Washington, DC, June 7, 2010.
One of the most powerful women in the world
In 2006, Forbes ranked Clark 20th of "The World's 100 Most Powerful Women".[67]
Global Progressive Forum, Brussels 2009
Progressives from all over the world are getting together in Brussels on April 2-3, 2009 at the Global Progressive Forum to discuss how to create a better globalization for people.
The Global Progressive Forum brings together politicians, trade unions, NGOs and progressive representatives of international organizations. Participants confirmed to date include President Bill Clinton, Pascal Lamy, Howard Dean, Barney Frank, Helen Clark, Antonio Guterres, Vandana Shiva, Salima Ghezali, Susan George, Zwelinzima Vavi, Aminata Traore, Chico Whitaker and many more. The challenges are finding new answers to the global crisis – including economic and financial crisis, food crisis and climate and energy crisis – and stepping up efforts to work together to reshape globalization.
Key moments include
The Global Progressive Forum is timed to coincide with the G20 meeting in London and the NATO anniversary events in Strasbourg.
Some 2,000 participants are expected over the two days including many PES activists and young progressives from all over Europe as well as trade unionists, NGOs and students.[68]
17.00-18.30 Workshop 16 - Progressives; the way forward, followed by Closing Ceremony (Hemicycle)
PES visit
From 21-25 June 2010, a high level Party of European Socialists delegation headed by Poul Nyrup Rasmussen travelled to Canada for the International Trade Union Confederation Congress in Vancouver and the G20 summit. The delegation presented the PES "A Progressive way out of the Crisis" strategy, which aims to impose strict financial regulation and fostered support for a global financial transactions tax (FTT) of 0.05%.
In Vancouver, Mr. Rasmussen met with Dominique Strauss-Kahn, Director General of the IMF, Pascal Lamy Director General of the WTO, Helen Clark of the UNDP and Richard Trumka, President of the AFL-CIO. He also met with NDP Member of Parliament Peter Julian, to discuss the FTT and with the President of the Canadian Labour Congress Ken Georgetti.
During the four day visit to North America, PES President Poul Nyrup Rasmussen also gave a speech to the Socialist International Council in New York on 21 June 2010 and met with members of the US Congress in Washington.
Mr. Rasmussen held comprehensive and very promising meetings for future cooperation, with US Congressman Peter DeFazio and with Jared Bernstein, Chief Economist of US Vice President Joe Biden. [69]
Progressive Governance Conference, 2011
Policy Network's Progressive Governance Conference took place in Oslo on 12 and 13 May, 2011.
Hosted by the Norwegian Prime Minister Jens Stoltenberg, and organized in partnership with the Norwegian Confederation of Trade Unions (LO), the conference brought together centre-left leaders from across Europe and other countries around the world, as well as over 200 leading academics, political thinkers and policymakers.
The Norwegian prime minister welcomed a number of heads of state and party leaders including: George Papandreou, prime minister of Greece; Boris Tadic, president of Serbia; Eamon Gilmore, deputy prime minister of Ireland; Job Cohen, leader of the Dutch Labour party; Håkan Juholt, leader of the Swedish Social Democrats; Caroline Gennez, leader of the Flemish Socialist Party; Ed Milliband, leader of the UK Labour party; Helle Thorning-Schmidt, leader of the Danish Social Democrats; Victor Ponta, leader of the Romanian Socialist party.
Leading academics, political figures and policy thinkers included, among others: Tom Bentley, deputy chief of staff to the Australian prime minister; Liam Byrne, UK shadow secretary of state for work and pensions; Helen Clark, head of the UN development programme; Anna Diamantopoulou, Greek minister of education; Marco Aurelio Garcia, senior foreign policy adviser to the Brazilian President; Jacob Hacker, professor at Yale University; Will Hutton, executive vice-chair of the Work Foundation; Raymond Johansen, secretary general of the Norwegian Labour Party; Karen Kornbluh, US ambassador to the OECD; Pascal Lamy, director-general of the WTO; Enrico Letta, deputy secretary of the Italian Democratic Party; Matthias Machnig, minister of labour, economics and technology in the German state of Thuringia; Poul Nyrup Rasmussen, president of the Party of European Socialists; John Podesta, president of the Center for American Progress; Andrés Velasco, former minister of finance of Chile.[70]
Parliamentarians for Nuclear Non-proliferation and Disarmament
The following were, as of 2011, vice presidents of Parliamentarians for Nuclear Non-proliferation and Disarmament :[71]
Cuba connection
Auckland Young Feminists
Auckland Young Feminists March 16, 2018 ·
With Arna Metcalfe, Freddie Simpson, Gabriella Brayne, Helen Clark, Latayvia Tualasea-Tautai, Anna Beard, Katherine McAlpine and Carol Beaumont at Raye Freedman Arts Centre.
Some of her honours
In 1986, Clark was honored with the annual Peace Prize of the Danish Peace Foundation for her efforts toward international peace and disarmament.[2]
In January 2008, she won the United Nations Environment Programme Champions of the Earth award in recognition of the government's promotion of sustainability initiatives.[72]
Clark is an Honorary Member of The International Raoul Wallenberg Foundation.[73]
References