Glenn Ramsey
From KeyWiki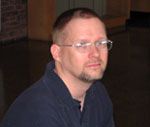 Glenn B. Ramsey teaches history at the University of Memphis. He is a contributor to Political Affairs.[1]
He is the partner of Jim Maynard.
Education
PhD (2004), Binghampton University [2015][2]
Communist Party
Glenn Ramsey wrote an article for the Communist Party USA's Political Affairs, "Shouldering our burdens" January 26 2011, opposing the notion that the Communist Party should change its name.[3]
C.J. Atkins makes a disarmingly gentle, yet muddled case for name change. After an opening congratulatory appraisal of the Party's past 20 years (of successfully avoiding name change while remaining politically dynamic), he proposes that the Party not only drop its "Communist" label, but its self-definition as a party.
As Atkins rightly states, we have to admit that communism still remains unpopular in American politics, despite twenty years after the collapse of the first workers' state, the Soviet Union, and a good-faith effort by Gorbachev (and other reformers) to recast both its political and economic processes to meet the demands of the post-industrial age.
Tennessee Equality Project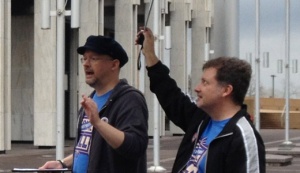 Supporters of the Tennessee Equality Project rallied outside of the federal courthouse in Memphis Dec. 9.2012. All across the state, similar rallies took place to petition President Barack Obama to sign an executive order barring discrimination based on sexual orientation and gender identity in federal contracting jobs.
Glenn Ramsey, an adjunct professor at the University of Memphis, encouraged the crowd to "extend the struggle" and "build on the recent victory [in the Memphis City Council]." Ramsey said they should secure "the real right to work... for lesbian, gay, bisexual and transgender" people across Tennessee.
While his partner, Jim Maynard, held an umbrella over his head, Ramsey put the purpose of the rally into perspective, saying, "We know, as America's working people, that policies like these [right to work] and longstanding employment discrimination against LGBT people, only serve the aims of America's corporate elite to divide and conquer our national workforce."
Ramsey asked, "Who else defeated the massive amounts of wealth invested by the Koch brothers, Sheldon Adelson and the American Heritage Foundation?" Ramsey shouted to the applauding crowd, "We the American people did, and we can do it again! Si se puede!" [4]
References