Ginny Coughlin
Jump to navigation
Jump to search

Template:TOCnestleft Ginny Coughlin is a labor union activist.
DSA member
In 1990, Ginny Coughlin, a Temple University student, was a member of the Philadelphia Democratic Socialists of America, steering committee.[1]
In 1991 Ginny Coughlin was involved in the production of Democratic Left. [2] She was also assistant to the DSA National Director and worked with the National Gay and Lesbian Task Force, while a student at Temple University.[3]
DSA Organizing Institute
Over fifty people attended the 1993 DSA Organizing Institute, which was held at Drew University in Madison, New Jersey during the weekend of June 25-27. The centerpiece of the weekend was an intensive series of training sessions, led by Steve Max, Deepak Pateriya, and Christine Riddiough, for DSA activists and organizers. These training sessions, which were based on the organizing methods developed by the Midwest Academy, helped build DSA local and national leaders' skills in developing political strategy, recruiting activists into DSA, and working in coalitions.
The Institute's training sessions were framed by two plenary discussions about DSA's mission. On Friday evening, DSA Honorary Chair Barbara Ehrenreich and DSA Vice Chairs Steve Max and Frances Fox Piven discussed the contemporary political climate and the most effective roles for a democratic socialist organization. On Sunday morning, National Political Committee member Jack Clark, DSA Youth Organizer Ginny Coughlin, and DSA National Director Michael Lighty spoke more concretely about how DSA can work to become a highly visible organization projecting a compelling political vision.[4]
GLOBE
In 1995 Ginny Coughlin was the the founder and coordinator of GLOBE: the Global Justice Education Project.[5]
1995 DSA Youth Conference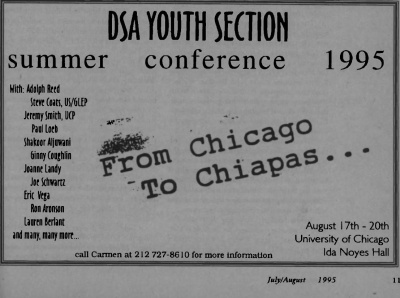 In August 1995 Adolph Reed, Ginny Coughlin, Joanne Landy, Jeremy Smith, Stephen Coats, Paul Rogat Loeb, Lauren Berlant, Joseph Schwartz, Shakoor Aljuwani, Ron Aronson and Eric Vega, spoke at the Democratic Socialists of America Youth Section conference in Chicago.[6]
Union Summer
In 1996 Ginny Coughlin, the organizer of UNITE's Stop Sweatshops Campaign and former DSA youth activist and staffer, was involved in Union Summer.[7]
China trip, 2009 - "Partnership with Chinese Unions"
Kent Wong's UCLA Labor Center participated in a historic meeting between the Change to Win federation, and the All China Federation of Trade Unions in August 2009. An agreement signed by CtW Chair Anna Burger and ACFTU Vice Chairwoman Sun Chunlan at ACFTU headquarters in Beijing promotes cooperation between the two federations on key projects, such as joint research on multinational corporations operating in the United States and China.
It was the first time in history that such an agreement has been signed between trade union federations in the two countries.
The UCLA Labor Center pledged work with SEIU and the Teamsters, as well as with ACFTU, to conduct research on labor standards, labor law enforcement, and collective agreements in the multiservice, express delivery, and commercial banking industries. In late 2010, the Labor Center will participate in a binational US-China conference, hosted by the ACFTU, to explore ways research findings can improve labor standards.
In Beijing, Andy Stern and Kent Wong met with faculty members from the Labor Relations College of Renmin University and also visited the Migrant Workers' Center.
In addition to Anna Burger, the US delegation included SEIU President Andy Stern, CSEA Executive Director Josie Mooney, Ginny Coughlin from SEIU, and UCLA Labor Center Director Kent Wong. Labor Center staff member Scott E. Myers served as the delegation's Chinese interpreter.[8]
References