General Baker
From KeyWiki
General Baker is a Detroit activist. he is married to Marian Kramer.
Background
General Baker was born on September 1, 1941 soon after his parents moved to Detroit from Georgia so that his father could work in the automobile industry. Baker graduated from Southwestern High School in 1958 during an economic recession and was unable to find steady work until 1961.
Activism
During the early 1960s Baker attended Wayne State University where he became involved in black nationalism and left wing politics. He studied the writings of Karl Marx and developed an ideology that combined the tenets of socialism with black nationalism. In 1963 Baker was arrested for booing the National Anthem as a protest against the Detroit City Council's failure to pass an open housing ordinance. He was acquitted of the disturbing the peace charges. In 1964 he traveled to Cuba where he studied the Marxist government of Fidel Castro. After returning to Detroit, Baker went to work at the Dodge Main plant in Hamtramck.[1]
In 1965 he was drafted into the army but refused to be sworn as a protest to the Vietnam War. He expected to be tried and put in jail but was declared a security risk and released. During the 1960s workers at the Dodge Main plant faced a speed-up on the production line. Baker and other leaders increased their criticism of Dodge and the United Auto Workers Union and on May 2, 1968 led workers out on what would be the first of many wildcat strikes called without the sanction of union leadership. Baker was fired from his job and blacklisted from employment in the auto industry after being identified as one of the leaders of the strike. He did not work in the industry again until 1973 and then only by getting a job under a false name at the Ford Motor Company Rouge plant.[2]
DRUM
Baker and the other leaders of the protest movement at the Dodge Main plant created the Dodge Revolutionary Union Movement (DRUM). DRUM's goal was to end all discriminatory union and employer policies and to increase the power of African-American workers in American society. They demanded that African Americans be hired as shop foremen, union officials, and as UAW president. Baker served as managing editor of the movement's newspaper, the Inner City Voice. DRUM spurred African Americans in other plants and industries to form their own revolutionary union movement. Baker and others then founded the League of Revolutionary Black Workers as an organization to amalgamate the actions of the various union movements. The League eventually split apart due to differing interpretations of its purpose and tactics, but Baker continued to fight for "economic justice". In 1976 he ran for Michigan House as a Communist Labor Party Candidate and in 1978 sought the same seat as a Democrat. He continued his involvement in politics as one of the founding members of the League of Revolutionaries for a New America and in numerous other leftist groups. He also served as Chairman of UAW Local 600 at the Ford Rouge Steel. [3]
Revolutionary Union Movement
In 1968 and 1969, former Wayne State students such as General Baker, Marian Kramer, Ken Cockrel, Ken Hamblin, Luke Tripp, Charles Johnson, and others organized the Revolutionary Union Movement in Detroit's auto plants, which culminated in the League of Revolutionary Black Workers. Some of the organizers who split from the League joined former SNCC leader James Forman and founded the Black Workers Congress.[4]
Malcolm X conference
A conference, Malcolm X: Radical Tradition and a Legacy of Struggle was held in New York City, November 14 1990.
Black Workers Unity and Resistance to Economic Barbarism
Chairperson:
Panel:
Black Radical Congress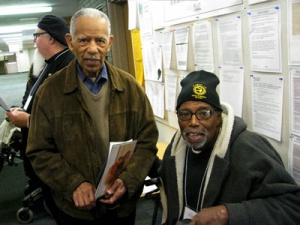 In March 1998 "Endorsers of the Call" to found a Black Radical Congress included General Baker, Auto Worker, Detroit[6].
At the June 1998 Black Radical Congress in Chicago, militants of an older generation were assigned to work with younger comrades.
On Friday evening there was an inter-generational dialogue which was an attempt to blend an historical and contemporary review of the Black liberation struggle by means of older and younger activists interviewing one another.
Veteran activists Kathleen Cleaver, General Baker, Barbara Smith, Ahmed Rahman, Angela Davis and Nelson Peery were "paired up with younger activists" Van Jones, Kim Diehl, Kim Springer, Fanon Che Wilkins, Kashim Funny, and Quraysh Ali Lansana, respectively[7].
References