Freedomways
From KeyWiki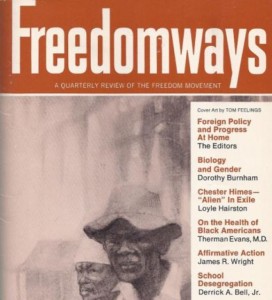 Freedomways was a black targeted magazine run by the Communist Party USA.
Communist creation
The Communist Party USA created Freedomways Magazine as a propaganda vehicle with which to reach into the black intellectual and academic community. It was established in the mid-1960's by members of the CPUSA and well-documented sympathizers/supporters. It billed itself as "A Quarterly Review of the Freedom Movement."
Newly declassified documents from Operation SOLO, an FBI program to infiltrate the Communist Party USA, reveal that a journal called Freedomways, which was influential in the black community for decades, was subsidized by the Soviet and Chinese Communist Parties.
Freedomways has been called "one of the most influential African-American literary and political journals of the 1960s and 1970s." It began in 1961 and ceased publication in 1986.
During the 25 years it served as a propaganda organ for the CPUSA and Soviet front organizations such as the World Peace Council, Freedomways published articles by such figures as:
Communist funding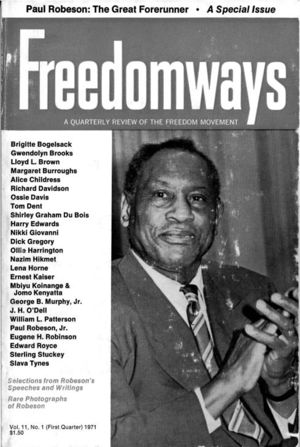 Freedomways grew out of a Soviet campaign, launched after the Russian revolution, to exploit the "Negro question" in the U.S. and manipulate blacks and members of other minority groups for Communist purposes.
The SOLO documents demonstrate that the Soviet Union illegally provided funding, reportedly more than $28 million, to the CPUSA. The documents are based on FBI informants, Morris Childs and Jack Childs, who had infiltrated the highest levels of the CPUSA and had participated in meetings with foreign communist parties.
President Ronald Reagan awarded Morris Childs (and posthumously, Jack) with the Presidential Medal of Freedom for their work for the U.S.
An FBI memo dated March 3, 1959, which summarized a meeting between CPUSA officials and the Soviet Communist Party, reveals that CPUSA official James Jackson had asked Soviet officials about "the possibility of a Negro magazine dealing with theoretical questions." Jackson was the party secretary in charge of "Negro and southern affairs."
Freedomways came into being two years later.
An FBI memorandum, dated July 6,1961, refers to funding for the CPUSA from the Communist Parties of the Soviet Union and China, including $5,000 to CPUSA chairman Gus Hall "for Negro publication 'Freedomways Associates, Inc.,'" the publisher of Freedomways.
A June 8, 1962, FBI memorandum refers to $3,000 "To Isodore Wofsy for transmittal to Esther Jackson, CP functionary for use of Negro magazine 'Freedomways.'" Wofsy was another important CPUSA member.
Esther Jackson, wife of James Jackson, was a CPUSA member who served as managing editor of Freedomways.[2]
Staff and Writers
The following contributed to the October 1975 Special Issue, "Afro-American Youth - The Road Ahead":
Articles by: (not listed on the cover)
Other writers included;
References