Ernestina Garcia
From KeyWiki
Ernestina Garcia fought many battles for nearly four decades in the South Bay and became a tireless voice who took on the establishment in the name of Latino rights in education, employment, housing and health care.
But she lost her final battle, with cancer, and died in 2005, at age 76.
Background
Born and raised in Arizona, one of 17 siblings, Ernestina Arce Hernandez Zamora saw inequity up close and personal as a schoolchild in the 1930s.
"We were not allowed to ride the same bus as the white children even though we went to the same school, she wrote in a 1994 Mercury News letter to the editor, responding to the anti-illegal-immigrant Proposition 187. "Their classrooms had gas heaters for the winter time and we had a wooden pot belly stove to warm the room. Many of our Mexican children were hit by teachers for not speaking or understanding English.
The daughter of migrant farmworkers, her parents moved in the 1940s to Decoto, which later became part of Union City.
She was married to Antonio S. Garcia, a warehouseman who died in 1996. They had five children, one of whom, Teresa, died in a fire at age 4, and another, Diana Garcia Masangcay, died in 2005, during childbirth.[1]
"La Raza"
Not long after moving to Milpitas, Mrs. Garcia took on school districts and city halls to fight for la raza, which refers to "the people, a popular term in the 1960s during the political and social Chicano movement.
She founded the Confederación de la Raza Unida, a grass-roots political organization advocating civil rights, health, housing, economic and educational rights for farmworkers, students, the elderly and Chicanos -- Mexican-Americans born in the United States.
But Mrs. Garcia's way of improving the world often clashed with power brokers opposite her side of the table.
Her comments were sometimes considered to be inappropriately divisive, she was told, but she continued to use words such as "racists to make her points during public meetings.
"Mom was a no-nonsense kind of person, said Doreen Garcia-Nevel, the eldest of five children, "and if she did not like what you said, she would tell you. She would not hold back.
Throughout her activism, she was almost always ready with a contrary view:
In 2000, on the Mexican American Community Services Agency: "MACSA now is just a money-making machine that no longer represents the community. It went in the direction of government money and now it's gimme, gimme, gimme.
In 1996 on the increasing use of the word "Hispanic in place of a lexicon she preferred, "Indigenous, "Chicano, "Mejicano, "Mexican-American, "Latino and "Raza: "According to our dictionary, `Hispanic' means Spanish and Portuguese culture; it is European. We did not change our ancestry; we are still indigenous. Europeans came to the Americas as a result of conquest, which was imposed on our population. . . . Hispanics might be a convenient term but it is totally inaccurate. Some of us have a fierce pride of our Indian ancestry and do not want anyone to Hispanicize us.
Her critics didn't seem to faze her.
"They say I'm too radical, she said in a 1994 Mercury News interview. "I don't think I'm a radical. I tell it like it is.[2]
Evolution
Her evolution from homemaker to activist began in 1968 when her eldest daughter showed her a copy of her Milpitas High School yearbook. Mrs. Garcia was outraged by what she saw: Instead of printing the usual phrase to cover blank spaces -- "photo not available -- the yearbook published a caricature of a sleeping Mexican next to a cactus.
Mrs. Garcia, born to parents of Mexican ancestry, soon discovered that the high school, and other campuses in the South Bay, lacked sensitivity because they hired few or no Mexican-American teachers. So she embarked on a persistent, in-your-face quest to persuade school officials to hire Latino teachers, and that mission evolved into her becoming a fiery advocate for a broad range of issues affecting Latinos.
"Ernie's presence really brought a lot of sincerity and passion to the activities and concerns of Chicanos for the whole region here, said Jose Carrasco, the retired chairman of the Mexican-American studies department at San Jose State University.[3]
Soviet connection?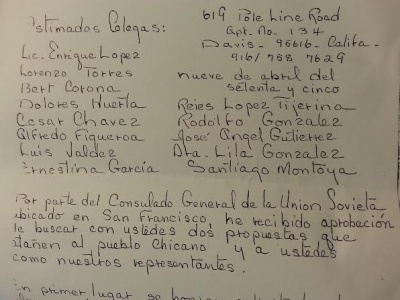 On April 9, 1975, Jorge Acevedo wrote a letter in Spanish to several well known Chicano activists including Enrique Lopez, Lorenzo Torrez, Bert Corona, Dolores Huerta, Cesar Chavez, Alfredo Figueroa, Luis Valdez, Ernestina Garcia, Reies Lopez Tijerina, Rodolfo Gonzales, Jose Angel Gutierrez, Lila Gonzalez, and Santiago Montoya.
The letter referred to the Soviet Consulate in San Francisco, Chicano participation in the Patrice Lumumba University in Moscow, Chicano self-determination, the "socialist system" and the Soviet front World Peace Council. The letter spoke of two proposals received from the Soviet Consul in San Francisco.
The first proposal was to invite students of both sexes to enrol in the Patrice Lumumba University in Moscow, for the academic year beginning in September 1975.
"Professional and personal expenses" would benefit the socialist system, which "seeks to support the Chicano self-determination movement."[4]
References