Elizabeth Esty
Jump to navigation
Jump to search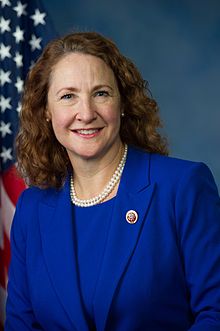 Template:TOCnestleft Elizabeth Esty , entered Congress with the 2012 elections, as an (Connecticut Democrat, District 5).
She was formerly a State Representative from Connecticut.
Support for the Council on American Islamic Relations
Elizabeth Esty wrote a letter of support to the Council on American-Islamic Relations (CAIR) on the occasion of their 24th anniversary in September 2018.[1]
Supported Progressive Health Care Reform
In late 2009, Elizabeth Esty was one of more than 1,000 state legislators to sign a letter entitled "State Legislators for Progressive Health Care Reform". The letter was a project of the Progressive States Network and was developed in consultation with national health care reform advocates, including the AFL-CIO, AFSCME, Community Catalyst, Families USA, Herndon Alliance, National Women's Law Center, Northeast Action, SEIU, and Universal Health Care Action Network. The letter reads in part,[2]
"Failure to pass national comprehensive health reform now will further jeopardize state and local budgets, undermining public services like education, public safety, and transportation infrastructure... We, the undersigned, call on President Obama and the Congress to enact bold and comprehensive health care reform this year – based on these principles and a strong federal-state collaboration – and pledge our support as state legislators and allies in pursuit of guaranteed, high quality, affordable health care for all."
Labor support 2012
Powered by the grass-roots efforts of union members who made phone calls, knocked on doors, talked to their co-workers and attended Get Out The Vote events, labor-endorsed candidates swept to victory in the Nov. 6 election.
The list starts with President Barack Obama and Chris Murphy -- who withstood Linda McMahon's $47 million effort to buy the 2012 U.S. Senate seat -- and Elizabeth Esty, who defeated the well-funded campaign of Republican Andrew Roraback in the 5th Congressional District.
"This was a victory for the middle class," said Council 4 Executive Director Sal Luciano. "Our members refused to allow corporations and right-wing billionaires to buy the election and ram through their extremist, anti-worker agenda. I am proud and grateful for everyone's effort."
AFSCME-endorsed candidates John B. Larson (1st Congressional District), Joe Courtney (2nd), Rosa DeLauro (3rd) and Jim Himes (4th) also were reelected, winning by sizeable margins.
Council 4 members Blair Bertaccini (Local 269), Tom Lukowicz (Local 1183) and Esma Ajruli (background), Local 714 phone-banked on election eve.[3]
JStreet endorsement
The socialist infiltrated, anti-Israel "two state solution" JStreet PAC endorsed Elizabeth Esty in her 2014 Congressional race. [4]
JStreet endorsed her again 2016.
In the House, Esty is seen as a leading voice of her Sophomore class. She serves on the Science, Space and Technology Committee and the Transportation and Infrastructure Commiteee. Esty spent time in Israel as a student studying foreign relations and is deeply supportive of a two-state solution.[5]
ARA endorsement, 2014
The Alliance for Retired Americans Political Action Fund endorsed Elizabeth Esty in 2014, also 2012.[6]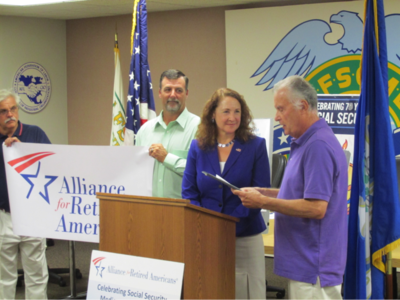 Today, the National Alliance for Retired Americans announced their endorsement of Elizabeth Esty for Connecticut's 5th Congressional District. The endorsement was announced at a celebration of Social Security's 79th anniversary at the AFSCME Council 4 office in New Britain. The Alliance for Retired Americans represents over 4.3 million retirees and community activists across the country, including more than 72,000 in Connecticut.
"Elizabeth Esty's strong positions on fighting Social Security and Medicare privatization and strengthening Social Security and Medicare confirm her commitment to improving the quality of life for older Americans," said Richard Fiesta, Executive Director of the National Alliance for Retired Americans. "Her leadership on issues such as preserving and protecting Social Security and Medicare from privatization and benefit cuts ensures these programs will be around for current and future generations. Alternatively, Elizabeth Esty's opponent, Mark Greenberg, supports House Budget Committee Chairman Paul Ryan's budget initiatives like ending Medicare as we know it, dramatically cutting Medicaid, and creating a fast-track procedure for cuts to Social Security – all while keeping the Bush tax cuts and tax breaks for the wealthiest Americans and corporations. Mark Greenberg's support for privatizing the Medicare program would dramatically increase out-of-pocket costs for seniors' health care and put insurance companies in control of care."
"I'm honored to receive the endorsement of the National Alliance for Retired Americans today," said Elizabeth Esty. "It's wrong to balance the budget on the backs of our seniors. Seniors have earned these benefits after lifetimes of hard work, and they deserve to know they'll be there for their retirement security and for their children and grandchildren's future. Unlike my opponent Mark Greenberg who wants to privatize Social Security and voucherize Medicare, I'll continue to stand up against any attempts to cut or dismantle these lifeline programs."[7]
New Democrat Coalition, 113th Congress
In the 113th Congress, 50 members of the House of Representatives belonged to the New Democrat Coalition, including:[8]
Condemning Criticism of Islam legislation
On December 17, 2015, Rep. Don Beyer, Jr. introduced legislation condemning "violence, bigotry, and hateful rhetoric towards Muslims in the United States." The legislation is based on unsourced claims that there is a "rise of hateful and anti-Muslim speech, violence, and cultural ignorance," and a "disproportionate targeting" of "Muslim women who wear hijabs, headscarves, or other religious articles of clothing...because of their religious clothing, articles, or observances." The resolution, H.Res.569 - Condemning violence, bigotry, and hateful rhetoric towards Muslims in the United States [9]
The legislation was cosponsored by Rep. Michael Honda, Rep. Keith Ellison, Rep. Joseph Crowley, Rep. Andre Carson, Rep. Eleanor Holmes Norton, Rep. Betty McCollum, Rep. Marcy Kaptur, Rep. Carolyn Maloney, Rep. Dan Kildee, Rep. Loretta Sanchez, Rep. Charles Rangel, Rep. Scott Peters, Rep. Brad Ashford, Rep. Alan Grayson, Rep. Mark Takai, Rep. Brian Higgins, Rep. William Keating, Rep. Raul Grijalva, Rep. Debbie Wasserman Schultz, Rep. G.K. Butterfield, Rep. Gerry Connolly, Rep. Ruben Gallego, Rep. Cheri Bustos, Rep. John Delaney, Rep. Kathy Castor, Rep. Luis Gutierrez, Rep. Michael Quigley, Rep. Elizabeth Esty, Rep. Joseph Kennedy III, Rep. Robin Kelly, Rep. Eddie Bernice Johnson, Rep. Gregory Meeks, Rep. Grace Meng, Rep. Al Green, Rep. Katherine Clark, Rep. Adam Schiff, Rep. Alcee Hastings, Rep. Sam Farr, Rep. Frank Pallone, Rep. Jim McDermott, Rep. Barbara Lee, Rep. Donna Edwards, Rep. Robert Brady, Rep. Frederica Wilson, Rep. Michael Doyle, Rep. Albio Sires, Rep. Suzan DelBene, Rep. Judy Chu, Rep. Jared Polis, Rep. David Loebsack, Rep. Bill Pascrell, Rep. Debbie Dingell, Rep. Jan Schakowsky, Rep. Steve Cohen, Rep. Ruben Hinojosa, Rep. John Yarmuth, Rep. Niki Tsongas, Rep. Jim Langevin, Rep. Mark Pocan, Rep. John Conyers, Jr., Rep. Mark Takano, Rep. Tim Ryan, Rep. Jose Serrano, Rep. Hank Johnson, Rep. Paul Tonko, Rep. Zoe Lofgren, Rep. Chris Van Hollen, Rep. Lois Capps, Rep. David Price, Rep. Doris Matsui, Rep. Gwen Moore, Rep. Denny Heck, Rep. Sheila Jackson Lee, Rep. John Carney, Rep. Xavier Becerra, Rep. Eric Swalwell, Rep. John B. Larson, Rep. Dina Titus, Rep. Peter Welch, Rep. Lloyd Doggett, Rep. Jim Himes, Rep. Matt Cartwright.
Praising CAIR
"I applaud the Council for continuing this great tradition of bringing together community leaders, scholars, and activists to celebrate CAIR's work defending civil liberties." -Rep. Elizabeth H. Esty (D-Conn.) (September 2014) . [10]
Communist Field Director
Communist Party USA member Maxwell Goldman was Field Director, Friends of Elizabeth Esty, September 2016 – Nov 2016.
Trump's Russia ties
Members of Connecticut's congressional delegation joined demands for a special prosecutor to oversee the investigation of Russian influence on the 2016 election after President Donald Trump fired James Comey as FBI director Tuesday May 9, 2017.
"The need for a special prosecutor is now crystal clear," said Sen. Richard Blumenthal, a member of the Senate Judiciary Committee who has called for a special prosecutor in the past. "President Trump has catastrophically compromised the FBI's ongoing investigation of his own White House's ties to Russia."
In describing the gravity of Trump's action, Blumenthal conjured memories of President Richard Nixon's firing of Watergate Special Prosecutor Archibald Cox.
"Not since Watergate have our legal systems been so threatened, and our faith in the independence and integrity of those systems so shaken," Blumenthal said.
Rep. Jim Himes, D-4th District, who sits on the House Intelligence Committee, which is conducting its own investigation into possible ties with Russia, said , "The White House cited Director Comey's handling of the investigation into Secretary Clinton's emails as the reason for the firing, but many will be rightly skeptical of that explanation."
"Whatever the merits of Director Comey's decisions, the investigated has just fired the investigator," Himes said. "That should never have occurred prior to the full and complete insulation of the FBI's investigation through the appointment of an independent prosecutor and other measures."
"I will do everything in my power to ensure that this irresponsible move doesn't end the necessary work law enforcement is conducting to discover the truth about Russia, its interference in our democracy and any and all who might be complicit," Himes said.
Sen. Chris Murphy joined Blumenthal in calling for a special prosecutor Wednesday morning.
"No matter the mistakes that Director Comey has made, the timing of his firing clearly suggests that President Trump is trying to influence or upend the FBI's investigation into his campaign's possible collusion with a foreign government," Murphy said Wednesday morning.
"The president's continued refusal to support the appointment of a special prosecutor would confirm America's worst fears about the motivation for Comey's firing," Murphy added.
U.S. Rep. Joe Courtney, D-2nd District, said the firing of Comey while he was "spearheading" the Russia investigation "does not pass the smell test."
"It is painfully clear that we need an immediate and independent investigation of all aspects relating to Russia's meddling in our election. We need a review that the American people can have faith in," Courtney said.
Courtney said the fact that Trump's action was recommended by Attorney General Jeff Sessions, whom he called "a political appointee who barely survived confirmation in the Senate," raised more doubt about the motives behind the firing.
Rep. Elizabeth Esty, D-5th District, said the White House has shown a "corrosive pattern of disinformation and obstruction" over the last four months, which has "impeded the public's ability to determine the full truth" about possible Russian interference.
"The only solution that will restore public trust is for Congress to appoint a special prosecutor to conduct an independent investigation," Esty said Wednesday morning.
Rep. John B. Larson, D-1st District, said demanding an independent investigation should not be a partisan issue.
"The firing of FBI Director James Comey should renew every American and every member of Congress's call for an independent investigation into Russian involvement," Larson said.
Rep. Rosa DeLauro, D-3rd District, said the White House must provide "an urgent and thorough explanation" for its decision, given the ongoing FBI investigation into Russian interference.
"These events further underscore why I have continued to demand an independent commission with subpoena power in order to get to the bottom of the Russia investigation," DeLauro said Wednesday morning.[11]
References