Derrick Bell
Jump to navigation
Jump to search
Template:TOCnestleft Derrick A. Bell, Jr. , a legal scholar who saw persistent racism in America and sought to expose it through books, articles and provocative career moves — he gave up a Harvard Law School professorship to protest the school's hiring practices — died in October 2011, in Manhattan. He was 80 and lived on the Upper West Side.
Mr. Bell was the first tenured black professor at Harvard Law School and later one of the first black deans of a law school that was not historically black. But he was perhaps better known for resigning from prestigious jobs than for accepting them.
While he was working at the Civil Rights Division of the Justice Department in his 20s, his superiors told him to give up his membership in theNAACP., believing it posed a conflict of interest. Instead he quit the department, ignoring the advice of friends to try to change it from within.
Thirty years later, when he left Harvard Law School, he rejected similar advice. At the time, he said, his first wife, Jewel Hairston Bell, had asked him, "Why does it always have to be you?" The question trailed him afterward, he wrote in a 2002 memoir, "Ethical Ambition," as did another posed by unsympathetic colleagues: "Who do you think you are?"
Professor Bell, soft-spoken and erudite, was "not confrontational by nature," he wrote. But he attacked both conservative and liberal beliefs. In 1992, he told The New York Times that black Americans were more subjugated than at any time since slavery. And he wrote that in light of the often violent struggle that resulted from the Supreme Court's 1954 desegregation decision, Brown v. Board of Education, things might have worked out better if the court had instead ordered that both races be provided with truly equivalent schools.
He was a pioneer of critical race theory — a body of legal scholarship that explored how racism is embedded in laws and legal institutions, even many of those intended to redress past injustices. His 1973 book, "Race, Racism and American Law," became a staple in law schools and is now in its sixth edition.
Mr. Bell "set the agenda in many ways for scholarship on race in the academy, not just the legal academy," said Lani Guinier, the first black woman hired to join Harvard Law School's tenured faculty.
At a rally while a student at Harvard Law, Barack Obama compared Professor Bell to the civil rights hero Rosa Parks.[1]
Core beliefs
Professor Bell's core beliefs included what he called "the interest convergence dilemma" — the idea that whites would not support efforts to improve the position of blacks unless it was in their interest. Asked how the status of blacks could be improved, he said he generally supported civil rights litigation, but cautioned that even favorable rulings would probably yield disappointing results and that it was best to be prepared for that.
Much of Professor Bell's scholarship rejected dry legal analysis in favor of stories. In books and law review articles, he presented parables and allegories about race relations, then debated their meaning with a fictional alter ego, a professor named Geneva Crenshaw, who forced him to confront the truth about racism in America.
One of his best-known parables is "The Space Traders," which appeared in his 1992 book, "Faces at the Bottom of the Well: The Permanence of Racism." In the story, as Professor Bell later described it, creatures from another planet offer the United States "enough gold to retire the national debt, a magic chemical that will cleanse America's polluted skies and waters, and a limitless source of safe energy to replace our dwindling reserves." In exchange, the creatures ask for only one thing: America's black population, which would be sent to outer space. The white population accepts the offer by an overwhelming margin. (In 1994 the story was adapted as one of three segments in a television movie titled "Cosmic Slop.")
Not everyone welcomed the move to storytelling in legal scholarship. In 1997 Richard Posner, the conservative law professor and appeals court judge, wrote in The New Republic that "by repudiating reasoned argumentation," scholars like Professor Bell "reinforce stereotypes about the intellectual capacities of nonwhites."
Professor Bell's narrative technique nonetheless became an accepted mode of legal scholarship, giving female, Latino and gay scholars a new way to introduce their experiences into legal discourse. Reviewing "Faces at the Bottom of the Well" in The New York Times, the Supreme Court reporter Linda Greenhouse wrote: "The stories challenge old assumptions and then linger in the mind in a way that a more conventionally scholarly treatment of the same themes would be unlikely to do."[2]
Early life
Derrick Albert Bell Jr. was born on Nov. 6, 1930, in Pittsburgh, to Derrick Albert and Ada Elizabeth Childress Bell. After graduating from Schenley High School near Pittsburgh's Hill District, he became the first member of his family to go to college, attending Duquesne University in Pittsburgh. He received his bachelor's degree in 1952.
A member of the R.O.T.C. at Duquesne, he was later an Air Force officer for two years, one of them in Korea. Afterward he attended the University of Pittsburgh Law School, where he was the only black student, earning his degree in 1957.
After his stint at the Justice Department, he headed the Pittsburgh office of the NAACP Legal Defense and Educational Fund, leading efforts to integrate a public swimming pool and a skating rink. Later, assigned to Mississippi, he supervised more than 300 school desegregation cases.[3]
Career
In 1969, after teaching briefly at the University of Southern California, he was recruited and hired by Harvard Law School, where students were pressuring the administration to appoint a black professor. Mr. Bell conceded that he did not have the usual qualifications for a Harvard professorship, like a federal court clerkship or a degree from a top law school.
In 1980 he left Harvard to become dean of the University of Oregon School of Law, but he resigned in 1985 when the school did not offer a position to an Asian-American woman. After returning to Harvard in 1986, he staged a five-day sit-in in his office to protest the school's failure to grant tenure to two professors whose work involved critical race theory.
In 1990 he took an unpaid leave of absence, vowing not to return until the school hired, for the first time, a black woman to join its tenured faculty. His employment effectively ended when the school refused to extend his leave. By then, he was teaching at New York University School of Law, where he remained a visiting professor until his death. Harvard Law School hired Professor Guinier in 1998.[4]
Bell and Obama
In the spring of 1991, Barack Obama, then the president of the Harvard Law Review, spoke at a rally in favor of Professor Derrick Bell and his push for greater diversity on the law school faculty.
The context of the video: Bell was the first black professor to sit on the law school faculty. As David Remnick wrote in his Obama biography "The Bridge," "Derrick Bell was, in Barack Obama's time, the most vivid symbol of racial politics at Harvard Law School. In 1962, Bell helped James Meredith win admittance to the University of Mississippi…"
In the 1960s, Bell spent years trying to make the leap from a civil rights attorney to an academic, but he was never deemed good enough for tenure, until after Martin Luther King, Jr., was assassinated and law schools began taking action to change the composition of their all-white faculties. The dean of Harvard Law School promised Bell, "You'll be the first, but not the last." But after two years on the faculty, he was still the only African-American, so Bell threatened to resign. As Remnick writes, "For the next two decades he repeatedly threatened to resign in order to get Harvard to hire more African-American men and, eventually, women. 'My life,' Bell said, 'is a living manifestation of taking no shit.'"
As Elena Kagan, currently a U.S. Supreme Court justice and a former Harvard Law School dean, told Remnick, "By the time Barack got to campus, in 1988, all the talk and the debates were shifting to race."
By Obama's second year at Harvard Law School, there were five African-American men on the Harvard Law School faculty, but no African-American women. After a black visiting professor from the University of Pennsylvania named Regina Austin was denied tenure, Bell again threatened to leave the school. He began a hunger strike. Some students began to rally around him. Classmates were curious as to how Obama would react. He was considered liberal, but not a leader, when it came to political controversies, or racial ones.
Outside Harkness Commons, Obama joined the cause.
Recalling Bell speaking to Harvard Law student, Obama - with a now-familiar speaking style - called Bell "the Rosa Parks of legal education." Obama praised the "excellence of his scholarship."
"Open up your hearts and your minds to the words of Professor Derrick Bell," Obama said.
Bell left Harvard, and went on to teach at New York University.[5]
Legacy
Mr. Bell said his personal decisions took a toll on his first wife, Jewel, who had cancer when he left Harvard in 1990 and died that year. In 1992 he began a correspondence with Janet Dewart, who was the communications director of the National Urban League. Ms. Dewart proposed marriage before the couple even met. A few months later, Mr. Bell accepted.
In addition to his wife, he is survived by three sons from his first marriage, Derrick A. Bell III and Douglas Dubois Bell, both of Pittsburgh, and Carter Robeson Bell of New York; two sisters, Janet Bell of Pittsburgh and Constance Bell of Akron, Ohio; and a brother, Charles Bell, of New York.
In "Ethical Ambition," Mr. Bell expressed doubts about his legacy: "It is not easy to look back over a long career and recognize with some pain that my efforts may have benefited my career more clearly than they helped those for whom I have worked."
But Professor Lani Guinier, who continues to teach at Harvard, differed with that view. "Most people think of iconoclasts as lone rangers," she said on Wednesday. "But Derrick was both an iconoclast and a community builder. When he was opening up this path, it was not just for him. It was for all those who he knew would follow into the legal academy."[6]
Critical race theory
Derrick Bell is often credited as one of the originators of critical race theory along with Richard Delgado, Charles Lawrence, Mari Matsuda, and Patricia Williams. [7].
Freedomways connection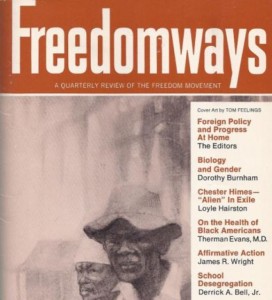 The Communist Party USA created Freedomways magazine as a propaganda vehicle with which to reach into the black intellectual and academic community. It was established in the mid-1960's by members of the CPUSA and well-documented sympathizers/supporters. It billed itself as "A Quarterly Review of the Freedom Movement."
Newly declassified documents from Operation SOLO, an FBI program to infiltrate the Communist Party USA, reveal that a journal called Freedomways, which was influential in the black community for decades, was subsidized by the Soviet and Chinese Communist Parties.
Freedomways has been called "one of the most influential African-American literary and political journals of the 1960s and 1970s." It began in 1961 and ceased publication in 1986.
During the 25 years it served as a propaganda organ for the CPUSA and Soviet front organizations such as the World Peace Council, Freedomways published articles by such figures as:
Brown v. Board of Education symposium
Designed to both celebrate the 50th anniversary of Brown v. Board of Education and analyze the decision's legacy, an April 2004 symposium hosted at Stanford presented panel discussions and showcased the varied opinions of legal scholars. Considered one of the most consequential decisions ever handed down by the United States Supreme Court, Brown v. Board was intended to prohibit segregation in public schools. Today, legal analysts and academics continue to question the decision's success.
Organized by Stanford's Program in American Studies, the symposium opened with a keynote lecture by legal scholar and activist Derrick Bell, who played a prominent role in southern school segregation cases in the l960s. He became the first tenured black professor at Harvard University in 1971. He left in 1992 to demonstrate against the dearth of female faculty members of color. He is currently a visiting professor at New York University Law School. The first of the discussion panels, titled "Brown v. Board of Education and the Unfulfilled Hopes for Racial Reform," featured University of Michigan law Prof. James Jackson, University of Southern California Prof. Mary Dudziak, Stanford Vice Provost LaDoris Cordell and Daryl Michael Scott, assistant professor of history at Columbia University. [9]
Black Scholar
Derrick Bell was a contributor to The Black Scholar.[10].
NCBL
Bell is a founding member of the National Conference of Black Lawyers.[11]
According to the National Conference of Black Lawyers website[12];
In 1968, young people of African descent in America were growing impatient with the slow pace of social change. Despite modest advances brought on by two decades of non-violent resistance, from one end of the country to the other, the cry for Black Power was raised in the midst of a sea of clinched fists. At the same time, this new militant spirit had moved many to don black berets and carry rifles. On street corners in practically every Black community, passers-by heard demands for Nation Time and Power to the People!
Inevitably, the powers-that-be responded to this activist renaissance with police brutality, frame-ups and a vicious counter-intelligence program that targeted scores of militants for harassment, prosecution or assassination. A small group of Black lawyers refused to sit idly by while the iron fist of government came down hard on the bravest and most intelligent of the Black community's younger generation. This period forced the birth of the National Conference of Black Lawyers (NCBL) which, as an organization, began to stand shoulder-to-shoulder with rifle-toting revolutionaries.
The National Conference of Black Lawyers and its allied organization, the National Lawyers Guild are the U.S. affiliates of the International Association of Democratic Lawyers.[13]
The IADL, was a "front" for the former Soviet Union and is still dominated by communist and socialist lawyers and legal organizations.
New Politics
As of 2009 Derrick Bell served as a sponsor of New Politics, magazine almost completely staffed and run by members of Democratic Socialists of America[14].
External links
References