Day Creamer
From KeyWiki
Day Creamer is the former wife of Robert Creamer.
NAM feminist
NAM organizer
In June 1972 Jay D. Jurie hitch-hiked to Volo, IL, where New American Movement held "what I believe was its second national gathering, a conference for organizers. I got dropped off at the dirt road leading into the camp were the meeting was to be held. As I walked along, a car stopped and offered me a ride, which I accepted. It was Paul Booth."
Along with his wife, Heather Booth, Bob Creamer and Day Creamer, and Steve Max, Paul Booth was one of those who had put the conference together. Many will recognize it was this same "cast of characters" who later formed the Midwest Academy.
"Democracy '76"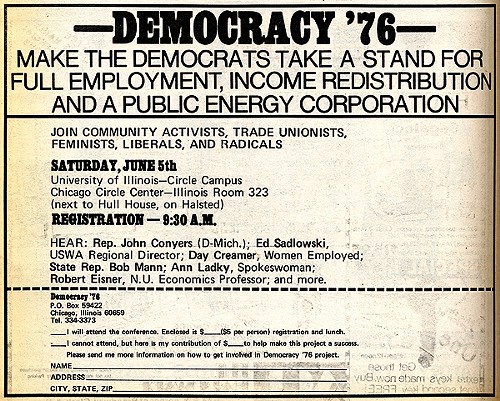 Democratic Socialist Organizing Committee organized a Democracy '76 seminar in Chicago in June 1976.
It featured John Conyers, Bob Mann, Ann Ladky, Day Creamer, Ed Sadlowski, and Robert Eisner.
Democratic Agenda
More than 1,200 people attended the Democratic Socialist Organizing Committee initiated Democratic Agenda Conference held November 16-18, 1979, at the International Inn and Metropolitan AM Church in Washington 1 DC. The conference focused on "corporate power'; as the key barrier to "economic and political democracy," concepts many Democratic Agenda participants defined as "socialism.'
The Democratic Agenda meetings attempted to develop anti-corporate alternatives" through influencing the direction of the Democratic Party during the period leading to the July 1980 Democratic National Convention in New York.
Workshops included Wage Protection - George Wood, moderator; Day Creamer, Mary Keyserling, Earl Craig[1]
References
↑

Information Digest, December 14, 1979, page 370/371