David Sirota
From KeyWiki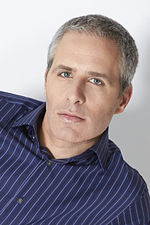 David Sirota is the author of the recently published Hostile Takeover, a book on the middle-class economic squeeze.
He also serves as a Senior Editor at In These Times magazine, and is also a writer for Working Assets. David Sirota is a twice a week guest on the Al Franken Show[1].
Sirota recently left his position as a fellow for at the Center for American Progress. He spent time in D.C. working under Representative Bernie Sanders from Vermont and senior Democrat, David Obey, on the House Appropriations Committee.
Progressive Legislative Action Network
Circa 2006, progressive blogger, veteran political activist, David Sirota launched a new group called the Progressive Legislative Action Network , which just received a $200,000 grant from George Soros's Open Society Institute, as well as support from AFSCME, SEIU, and other unions and progressive groups, including MoveOn.org. The aim of the new organization was to push progressive legislation at the state level. PLAN bills itself as the leftwing answer to ALEC. [2]
Progressive States Network
In 2009 Adam Sirota was Co-Chair[3]of the Board Progressive States Network
References