David Ranney
From KeyWiki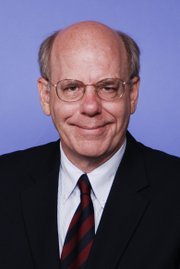 David (Dave) Ranney is a Senior Writer/Editor, for the Kansas Health Institute.
Background
As a journalist Ranney has covered state government for the Harris News Service, the Wichita Eagle and, most recently, the Lawrence Journal-World. He has a special interest in social services. Ranney received the Burton W. Marvin Kansas News Enterprise Award in 2000. The award recognizes outstanding reporting by a Kansas newspaper. Ranney, who holds a bachelor's degree in sociology, worked with adults with developmental disabilities for eight years before becoming a reporter.[1]
NAM
In 1974, David Ranney was a member of the Iowa City New American Movement.[2]
In 1975, David Ranney, ( Chicago #1 New American Movement), wrote an article for the New American Movement Discussion Bulletin, No 10, June/July 1975, "An Answer on Questions"[3]
In February 1976, New American Movement Discussion Bulletin issue number 13, carried an article, White Supremacy and NAM's Anti-Racist Program, David Ranney (Sojourner Truth Organization/NAM).
New American Movement leadership
Attendees at the Expanded National Interim Committee of the New American Movement January 2-4, 1976 in Pittsburgh, PA included;
Roberta Lynch, Anne Farrar, Judy MacLean, Alan Charney, Steve Carlip, Holly Graff, Richard Healey, Mark Mericle, Carollee Sandberg, John Ehrenreich, Bill Leumer, Elayne Rapping
RIC representatives -Ellen Sugg (Port City Chapter, Industrial Heartland Region), Mel Tanzman (Brooklyn Chapter, Northeast Region), Joni Rabinowitz (Pittsburgh Chapter, Industrial Heartland Region), Noel Ignatin (Sojourner Truth Chapter, Midwest Region), Rick Kunnes (Ann Arbor Chapter Industrial Heartland Region), Dorothy Healey ( L.A. #4, Southwest Region), John Judis (East Bay Chapter, Northwest Region), Lee Holstein (Haymarket Chapter, Midwest Region), Laura Burns (Radcliffe/Harvard Chapter, Northeast Region), Dan Marschall (East Bay Chapter, Northwest Region), Glenn Scott (Austin Chapter, Southern Region), Alice Allgaier (St. Louis Chapter, Midwest Region), Dave McBride (Austin, Southern Region), Mark Cohen (Southern Region, Hal Adams ( Iowa City, Midwest Region);
Staff - Dave Ranney[4]
References