Dan Margolis
From KeyWiki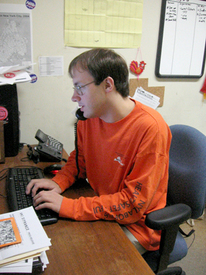 Dan Margolis was born in Worcester, Massachusetts, in 1976. In 2006 he was chair of the New York State Communist Party USA. In addition he writes for the People's World, covering local New York City and state issues, as well as events at the United Nations. He joined the Communist Party USA in 2001
Born in Worcester, Massachusetts, Margolis currently resides near the border of Brooklyn and Queens, in New York City[1].
Education
Attended University of Iowa in Iowa.[2]
Democratic Party activism
Margolis has been active in New York City elections, including as the mid-Staten Island coordinator for the 2004 Democratic Party Congressional campaign[3].
Revolutionary email
The following is from an e-mail by Dan Margolis, chair of the Communist Party in New York, celebrating our unique U.S. history of struggle and urging us to continue it this Fourth of July.[4]
The American Revolution, though incomplete at first, was one of what Lenin called the three 'truly great' revolutions in world history: The American, the French, and the Russian. The Revolution established the first democratic republic. It wasn't complete at first, but its importance can't be overstated, and it laid the basis for further struggles: the Civil War, the fight for women's rights, the formation of the Communist Party, the formation of the labor movement and the CIO, the Civil Rights revolution of the 1960s, the fight against fascism in the 30s and 40s, the fight against U.S. aggression in Vietnam, Korea and Iraq, the continued fight for immigrant rights, to name a few things, all continue the spirit of 1776.
The 2008 election of Barack Obama, and now his presidency, are perhaps the biggest continuation of that spirit in a generation.
So take a moment to relax and celebrate with family and friends all that we've achieved so far--and all the victories to come, up to and including a socialist USA.
Peoples World personnel
As at December 2010, personnel of the Communist Party USA paper, Peoples World, ;[5]
Editorial Board
Bureau Chiefs and National Contibutors, Juan Lopez (N. Calif.), Rossanna Cambron (S. Calif.), Joelle Fishman (Conn.), John Bachtell (Ill.), John Rummel (Mich.), Tony Pecinovsky (Mo.), Dan Margolis (N.Y.), Rick Nagin (Ohio), Libero Della Piana, Scott Marshall, Elena Mora, Emile Schepers, Jarvis Tyner, Sam Webb
References