Coalition for Social Justice
From KeyWiki
The Coalition for Social Justice and its educational fund, formerly known as the Coalition Against Poverty, has been actively building a powerful and effective grassroots movement in Fall River and New Bedford since 1994 and Brockton since 2003, and a Upper Cape Code electoral section since 2004.
The Coalition Against Poverty was launched by 2 Bristol Community College professors and students based on looming threats to the welfare safety net, which culminated in welfare reform in 1996 at the state level. Then in 1996, when the Republicans took control of Congress, CSJ was formed to initially work at the national level to oppose the Republicans' "Contract For America".
After joining the successful campaign to stop the balanced budget amendment from passing in Congress, and playing a key role in the election of progressive Democrat Jim McGovern for Congress in the 10th District, CSJ turned its attention to working with the Coalition Against Poverty on a "Campaign for Working Families' Agenda" for Massachusetts. Since CSJ charter enables it to also play a role in elections it has also had a string of successful victories at both the local and state level, including playing a key role in the election and re-election of Governor Deval Patrick.
Today, CSJ (which is integrating with CAP), is recognized in progressive circles as one of the powerful and dependable community organizations in the southeast region of Massachusetts. [1]
Board of Directors
Coalition for Social Justice Education Fund
Staff
In 2012, Deb Fastino, was Executive Director, and Rachel Mulroy, an Apprentice Organizer .
Sponsors of the 16th Annual Banquet & Awards Ceremony, 2011
Keynote speaker, Rep. Barney Frank.Thursday, May 19, 2011, Venus de Milo, 75 Grand Army Highway (Rte. 6) Swansea, MA [3]
3rd Eye Unlimited ~ Levi Adams & Jeanne Adams ~ AFT - Mass. ~ Tom Ahern Michele Armour ~ Peter Arsenault & Denise Arsenault ~ Elizabeth Atkins Coleen Avedikian & Dan Avedikian ~ Sherrad Barton ~ Dave Berger & Doris Berger Ruth Bourquin ~ Eugene Boyle ~ Brockton Neighborhood Health Center Mary Brunette ~ Edwin Bushell ~ Ed Byers & Cindy Byers ~ Lorraine Carey Carpenters Local 1305 ~ Shawn Casavant ~ CEDC Center for Preventive Medicine ~ Citizens for Citizens ~ Gloria Clark Community Foundation of SE Mass ~ Community Labor United Congressman Jim McGovern ~ Michael Connor ~ Barbara Cooke Councilor Eric Poulin ~ Councilor Michelle Dubois & Adam Swinson Councilor Tom Brophy ~ David Coyne & Margot Barnet Tom Davis Peter & Shirley Denison ~ David Dennis & Sandra Dennis Jerry Donovan, Down To Earth Natural Foods ~ Richard Drolet Sandy Faiman-Silva, Deb Fastino ~ Dave Feeney ~ Paul Fernald & Janice Fernald Joyce Fernandes ~ Bob French & Francine Veilleux ~ Joanne Garfield Dr. Sarah Garrett ~ Dan Georgianna ~ Dan Gilbarg & Marlene Pollock Greater SE Mass. Labor Council ~ Chris Gregory Avis Grosslein & Marvin Grosslein ~ Harris Gruman ~ Bella Hall ~ Jean Halvorson Deborah Harris ~ Adam Hausknecht ~ Judi Havens ~ Health Care for All Jim Hornsby ~ Harold Hubschman ~ Bill Kenney & Debbie Kenney ~ Carol Kolek Susan Kramer & Michael Kramer ~ Laborers Local 610 ~ Laborers Local 385 Dan Larkosh ~ Tom Lebach ~ Steve Leon & Judy Leon Betsy Leondar-Wright & Gail Leondar-Wright ~ Martin Lipman & Barbara Pearl Tom Lopes ~ Shirley Luongo ~ Vic Mailey ~ Melanie Malherbe & Jay Rose Greg Maravelas ~ Mass Paid Leave Coalition ~ Mass Nurses Association Mass Teachers Association ~ Mayor Linda Balzotti ~ Mayor Will Flanagan Marsha McCabe & Bob McCabe ~ MCCC – BCC Chapter ~ Jon Mitchell Margaret Monsell ~ Neighbor to Neighbor ~ New Bedford Womens' Center Patt Nicolet & Tania Nicolet ~ Northstar Learning Centers ~ Jimmy Owens PACE ~ Painters & Allied Trades Council 35 ~ Brian Pastori Joan Pingley ~ Sheldon Pollock ~ Betsy Powel & JP Powel ~ Public Policy Institute Rep. Paul Schmid ~ Rep. Cleon Turner ~ Rep. David Sullivan Rep. Kevin Aguiar ~ Rep. Michael Brady ~ Rep. Patricia Haddad Fred Rocco ~ Allan Rodgers ~ Deborah Roher ~ State Auditor Suzanne Bump Dr. Jack Sbrega & Joanne Sbrega ~ South Coastal Counties Legal Services, Inc. SE Mass. Building Trades Council ~ Emily Sedgwick ~ 1199 SEIU SEIU Local 509 ~ Bill Shaevel ~ Deborah Siegal & Richard Payne Judy Smith ~ Dr. Paul Snyder ~ Nan Starr ~ Wendy Stern & Jeremy Stern Jimmy Tingle ~ Elizabeth Toulan Bill Trimble & Suzy Trimble, Lou Turner & Lee Turner ~ U. Mass Labor Education Center U. Mass. Faculty Federation ~ UFCW Local 328 ~ UFCW Local 791 Betty Ussach & Steve Schwartz ~ Phil Villers ~ Westport Chiropractic Martha Williams & Dave Williams ~ Virginia Winstanley ~ Mary Wright & Redwood Wright Mardee Xifaras ~ Alan Zaslavsky ~ Vic Zeller ~ Mary Zepernick~ Carlton Dasent~The Womens Fund
CSJ 17th Banquet and Awards Ceremony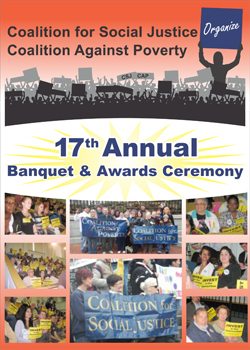 Thursday, May 17, 2012, Venus de Milo, 75 Grand Army Highway (Rte. 6), Swansea, MA 02777.
Keynote speaker: Elizabeth Warren, Candidate for U.S. Senate[4]
The Alliance for a Healthy Tomorrow
In June 2012, some of the Coalition for Social Justice families went to Boston to take part in a stroller brigade in support of the Safer Alternatives Bill. The kids wrote personalized messages in cards that were hand delivered to Senate President Therese Murray and Senate Ways and Means Committee Chairman Stephen Brewer.
By passing this bill, our state would make a commitment to reducing the impact of the most dangerous toxic chemicals we are exposed to daily by replacing their use with safer, alternative chemicals that already exist. The bill would also promote research and development of new alternatives to toxic chemicals, and proposes programs to help make the transition easier for workers and businesses.
The Coalition for Social Justice is an organizational member on the Governing Board of The Alliance for a Healthy Tomorrow. The Safer Alternatives Bill, S.397/H.1136 is sponsored by Senator Steve Tolman and Representative Jay Kaufman.
Supporting Elizabeth Warren
According to Marlene Pollock of New Bedford, lead organizer for the Coalition for Social Justice In New Bedford, three entities were working on the door to door model: The Elizabeth Warren campaign, whose volunteers were knocking on doors since the summer doing door outreach for the candidate herself; Service Employees International Union; and the Coalition for Social Justice, who were teamed up with a statewide community action project to do voter education and mobilization for infrequent voters — those who often feel like their vote doesn't count, and therefore, don't vote very much.
In New Bedford, we made a particular priority of reaching out to voters in Ward 4, the center of the African American and Cape Verdean communities. We made four rounds of door-knocking prior to the election, and another on Election Day, along with intensive phone calling. Overall, we contacted 2,847 voters, and of those, 2,478 pledged to vote. On Election Day, voter participation in Ward 4 increased by 5 percent, while the rest of the city went up less than 1 percent.
The Coalition for Social Justice has made significant contributions in important elections over the years. In this election we took our grassroots work to a new level. We canvassed far more people than ever before and spoke to many more voters than ever before. By prioritizing door-to-door outreach, we were able to reach large numbers of voters who could not be contacted by phone.[5]
References