Clyde Cleveland
Jump to navigation
Jump to search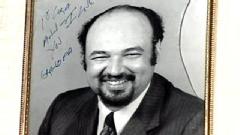 Clyde Cleveland died 2009, age 74, was a former Detroit City Council member and socialist activist.
Detroit City Council
Clyde Cleveland served on the Detroit City Council from 1974 to 2001.[1]
World Peace Council host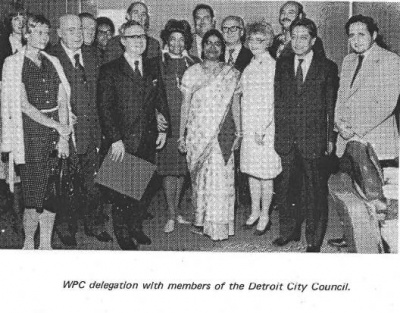 From September 29, to October 12, 1975 the Soviet front World Peace Council sent a delegation on a ten-day tour of the United States of America, where it was "warmly and enthusiastically received". In six of the ten cities visited, the delegation was officially welcomed by the mayors' offices and presented with "keys to the city", medals and proclamations.
The delegation was composed of Romesh Chandra, Secretary General of the World Peace Council; Josef Cyrankiewicz, former Premier of Poland, for many years a prisoner at the infamous Auschwitz prison camp, "outstanding anti-fascist fighter", and Chairman of the Polish Peace Committee; Ambassador Harald Edelstam, Swedish Ambassador to Algeria, formerly Ambassador to Chile during the Allende Presidency,"renowned for his rescue of hundreds of Chileans from the fascist junta"; Purabhi Mukherji, General Secretary of the Congress Party of India, member of Parliament and formerly a minister of the Indian government ~ for 15 years; James Lamond, Labour member of British Parliament, former Mayor of Aberdeen, Scotland, and active member of the Engineering Workers Union; Yacov Lomko, Editor-in-Chief of the Moscow News, leading member of the Soviet Peace Committee, and Communist Party USA member Karen Talbot, US member of the WPC Secretariat.
At Detroit's airport, the group was met by representatives of local peace organisations and trade unions. A sheriff's escort accompanied the delegates into Detroit where the "keys to the city" were presented to the delegation by Deputy Mayor Malcolm Dade, representing Mayor Coleman Young, and by Councilwoman Erma Henderson, member of the Detroit Common (City). Council.
The press, which was present during the presentation of the "keys", interviewed members of the delegation following the ceremony. The delegation was then taken to a meeting of the Detroit Common Council where the "Spirit of Detroit Award", signed by each member of the Council, was presented to each delegate by Council members Erma Henderson, Maryann Mahaffey and Clyde Cleveland. In addition to these Council members, the Michigan sponsors numbered 60 prominent local, state and national legislators, a Detroit judge, the presidents or vice presidents of 12 union locals including the United Auto Workers, Amalgamated Meatcutters, Transportation Employees and the American Federation of State, County and Municipal Employees.
The sponsors also included the Bishop of the Catholic Archdiocese of Michigan, among other prominent members of the clergy, the Women's International League for Peace and Freedom, Women for Peace, and representatives of peace, political and Black organisations.[2]
U. S. Peace Council sponsor
As at March, 1982, the published list of U.S. Peace Council sponsors included:[3]
Political career
Cleveland worked as a city employee for many years before serving on the City Council from 1974 through 2001.
The Democrat unsuccessfully ran for the U.S. House in 1980 and Wayne County executive in 1994.[4]
References