Claudia Corum
Jump to navigation
Jump to search
Template:TOCnestleft Claudia Corum is an Austin Texas activist.
Nitsch campaign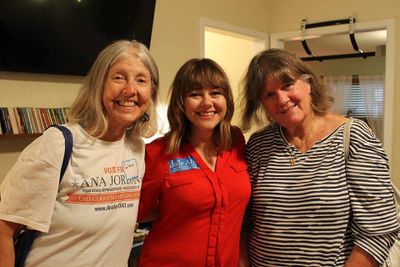 According to Austin Democratic Socialists of America members Bridget Tobin, Richard Croxdale, Glenn Scott, and Dale Webb of Austin-based progressive group Left Up To Us.
In a remarkable, unexpected down-ballot election victory in Austin, Texas, DSA member and Sanders campaign activist Julie Ann Nitsch won her runoff for Austin Community College (ACC) Board of Trustees on December 13th.
In the general election on November 8th, Nitsch delivered a strong second place finish with over 34% in a four-way race, while Sosa took just over 40%. With no candidate receiving over 50% of the vote, the race went into a runoff election on December 13th. The 5-week period between these dates gave the Nitsch campaign a renewed path to victory. Our Revolution hosted statewide and out-of-state phone banks to get out the vote for Nitsch, their only endorsed candidate in a runoff.[1]
Left Up To US Closed Facebook group
Members of the Left Up To US closed Facebook group, as of August 11, 2017 included Claudia Corum.[2]
Our Revolution Central Texas
Our Revolution Central Texas January 28 near San Antonio, TX ·
Our Revolution Central Texas at the 1st OR State Convention. — with Xaq Webb, Fletcher Lenz, Mike Lewis, Haley Mack, Morgen Cuming, Roy Woody, Kenith Gonzalez, Chau Lan Ngo, Mickey Fetonte, Julie Ann Nitsch, Steve Voytowich, Claudia Corum, Susanna Woody, Claudia Corum, Hatem Natsheh, Ron Coldiron and Jim Tourtelott.
Block-walking for Susanna Woody
Susanna Woody March 3 near Austin, TX ·
Last weekend of block walking. Come out and join us! Thanks Austin Young Democrats , Our Revolution South Austin , Left Up To US and Our Revolution Central TX for coming out today! — with Kolby Duhon, Andrew Costigan, Roy Woody, Barbara Fetonte, Sarah Rodriguez Ledesma, Mickey Fetonte, Erica Ọkụ Pehua, Joey Gidseg, Claudia Corum, Cynthia Mancha, Steve Voytowich, Raquel Voytowich, Richard Franklin, Maryann Ledesma, Jen Ramos, Chau Lan Ngo and Savannah Ledesma.
Beto connection
References