Christine Ahn
From KeyWiki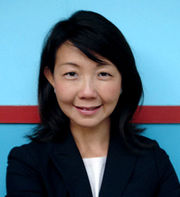 Christine Ahn is the Founder at Women Cross DMZ. Founding Board Member at Korea Policy Institute, and a columnist at Institute for Policy Studies.
Service
Christine Ahn is a policy analyst with expertise in Korea, globalization, militarism, women's rights and philanthropy. She is co-founder of the Korea Policy Institute (KPI), National Campaign to End the Korean War, and Korean Americans for Fair Trade. Ms. Ahn has participated in and led several peace and solidarity trips to South and North Korea. She has addressed the United Nations, U.S. Congress and the National Human Rights Commission in South Korea. She is a columnist with the Institute for Policy Studies' Foreign Policy In Focus, and her op-eds have appeared in The New York Times/International Herald Tribune, CNN, Asia Times, and the San Francisco Chronicle. She has appeared on Al-Jazeera, BBC, CNN, Democracy Now!, NBC Today Show, NPR, and Voice of America.
Ms. Ahn is currently Senior Fellow with the Oakland Institute and has worked with the Global Fund for Women, Women of Color Resource Center and Institute for Food and Development Policy/Food First. She helped produce Fashion Resistance to Militarism, a popular education show on the dominance of militarism in our lives. Ms. Ahn holds a master's degree in public policy from Georgetown University and a certificate in ecological horticulture from the University of California, Santa Cruz. She has been inducted into the OMB Watch Public Interest Hall of Fame and recognized as a Rising Peacemaker by the Agape Foundation.[1]
Career
Education
Studied at Georgetown University.
Korea Solidarity Committee
May 2003:Roger Kim, Judy Han and Christine Ahn were members of the Korea Solidarity Committee who published in War Times, May 2003 "U.S.-North Korea Nuclear Crisis Intensifies"
In 2003 Christine Ahn and Eunice Cho of the Korea Solidarity Committee, and Kawal Ulanday of CHRP and Filipinos for Affirmative Action gave talks entitled: "Korea/Philippines Solidarity Forum" In these talks, the speakers examined the U.S. Administration's intervention in Korea and the Philippines and the resistance of these communities. The talks were co-sponsored by CHRP and the Korea Solidarity Group. The classes were held at the San Francisco based Center for Political Education, an organization closely associated with the Committees of Correspondence for Democracy and Socialism.[2]
Friday, November 7, 2003, joining 30 other campuses and institutions worldwide, Korea Solidarity Committee helped organize a Korea Peace Day event at UC Berkeley, in conjunction with the Alliance of Scholars Concerned about Korea.
Speakers;
Initiated by the Alliance of Scholars Concerned about Korea, more than 30 college campuses nationwide are sponsoring events devoted to understanding the current crisis and advocating for peaceful resolutions.[3]
Center for Political Education
In 2003 Christine Ahn and Jan Adams gave talks entitled: "Non-Profits and the Movement - the structure of the non-profit system and the impacts on left movement building, and alternatives, with an eye towards the future of non-profits". The talks were hosted by the Center for Political Education.[4]
Averting U S War on North Korea: What Progressives Must Know and Do Now
As part of its War & Liberation series, Center for Political Education hosted a discussion with leading Korea peace activists and experts on the historical roots of this conflict. The panel discussed what peace and social justice movements are doing and must do locally, nationally and internationally to avert war.
Co-sponsored by Women Cross DMZ, Hella Organized Bay Area Koreans (HOBAK) and Catalyst Project.
November 10, 2017, First Congregational Church of Oakland.
Averting U S War on North Korea: What Progressives Must Know and Do Now
Working Group for Peace and Demilitarization in Asia and the Pacific
Working Group for Peace and Demilitarization in Asia and the Pacific released a "Statement Opposing U.S.-South Korea Joint Military Exercises Key Resolve Foal Eagle" circa 2008;
Christine Ahn, Gretchen Alther, Rev. Levi Bautista, Jackie Cabasso, Herbert Docena, John Feffer, Bruce Gagnon, Joseph Gerson, Subrata Goshoroy, Mark Harrison, Christine Hong, Kyle Kajihiro, Peter Kuznick, Hyun Lee, Ramsay Liem, Andrew Lichterman, John Lindsay-Poland, Ngo Vinh Long, Stephen McNeil, Nguyet Nguyen, Satoko Norimatsu, Koohan Paik, Mike Prokosch, Juyeon Rhee, Arnie Sakai, Tim Shorrock, Alice Slater, David Vine, Sofia Wolman, Kevin Martin.[6]
North Korea
Christine Ahn, Sun Hyung Lee visited North Korea under DEEP: Democratic People's Republic of Korea (DPRK) Exposure and Education Program in 2004.[7]
Peace Action Advisory Board
Peace Action Advisory Board as of 2014;
Women Cross DMZ walk
War Times crew
In 2017, the "War Times Crew" consisted of Rebecca Gordon, Sasha Wright, Jan Adams, Hany Khalil, Clare Bayard, Lynn Koh, Rami El-Amine, Jen Soriano, John Trinkl, Gary Hicks, Carlos Martinez, Christine Ahn, Francesca Fiorentini, Felicia Gustin, Greg Hom, Max Elbaum, Nathan Paulsen, Michael Reagan, Sarah Lazare, Alicia Garza, Elvis Mendez, Becca Tumposky.[9]
Korea Forum
According to Kent Mori, 80 people attended a forum on U.S. war threats and aggression against North Korea, Oct. 24. The event was organized by the Minnesota Peace Action Coalition and took place at the University of Minnesota.
Highlights of the forum included three outstanding speakers who all have significant experience in addressing U.S. aggression on the Korean peninsula. Sharon Chung moved to Minnesota a year ago and is a supporting member of Nodutdol for Korean Community Development and on the Korean Education and Exposure Planning Team. Roy Wolff is a member of Veterans for Peace Chapter 27 and a U.S. Army veteran who was stationed in South Korea for 16 months (1955‐57). Wolf has traveled to both north and south Korea in the years since he was in the U.S. Army. Lastly, the panel included Christine Ahn, who video conferenced in from Hawaii. Ahn is a founder and International Coordinator of Women Cross the DMZ, and a co‐founder of Korea Policy Institute, Korea Peace Network and Korean Americans for Fair Trade. She is a policy analyst with expertise on Korea, globalization, militarism and women's rights.
Beginning the forum, Sharon Chung stated Western news media regularly spews distorted information about a "crazy north Korean dictator trying to blow up the world with nuclear weapons," while ignoring the truly provocative actions coming from the U.S. government. She condemned actions like the U.S. and south Korean joint war exercises which simulate a nuclear war and assassination strikes on north Korea, and the forced and undemocratic deployment of the THAAD missile system.
Roy Wolff presented next. He emphasized the genocidal history of U.S. aggression on the Korean peninsula. He stated facts that are generally unknown about the Korean War (1950-1953) like, "every village and town in north Korea was destroyed! Every one!" and he repeated that "30% of the population of north Korea were killed, that's 3 million out of the 1950 population of 9 million." By way of example Wolf talked about the north Korean city of Wonsan, "a city of 70,000 people (in 1950) was shelled for 800 days in a row. At the end of those 800 days, only one wall of one building was left standing....and there were no people...many had fled, but thousands were killed." Wolf also showed that while the 1953 Armistice temporarily ended the 'hot' hostilities, it did not end the brutality of the continuing U.S. occupation of south Korea, which meant that U.S. military personnel committed 100,000 assaults, rapes and murders between 1953 and 1995.
The last speaker, Christine Ahn pointed out that "if there was ever a need for a mass mobilization in opposition to Trump and prevent a war on north Korea, it is now!" She argued that conditions appear to be good for developing movements both in the U.S. and in south Korea, with 68 to 80% of people in the U.S. opposing military action against north Korea, and over 80% of the people in south Korea wanting peaceful reconciliation with north Korea. [10]
Physicians for Social Responsibility event
Christine Ahn To Speak In L.A. On March 6 2018, Physicians for Social Responsibility Group At Immanuel Presbyterian Church In Koreatown.
Join Physicians for Social Responsibility - Los Angeles and Beyond the Bomb-Los Angeles on March 6 for a discussion featuring Christine Ahn, founder of Women Cross DMZ, a global movement of women mobilizing for peace in Korea. Suggested donation $10, no one turned away for lack of funds. Co-sponsored by ICUJP, Peace Action, Asian Pacific American Dispute Resolution Center, The Asia Institute, Action One Korea
References