Christian Bowe
From KeyWiki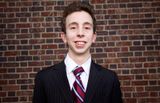 Christian Bowe is a New Jersey activist.
DSA
In April 2017 Christian Bowe was a contact for Central New Jersey Democratic Socialists of America.[1]
NPC candidate
In August 2017 Christian Bowe stood for election to the Democratic Socialists of America National Political Committee, at the National Convention in Chicago.[2]
I'm Christian Bowe, I'm 25 and live in Central New Jersey and work in New York City.
I was elected Central NJ's first chapter chair when we became a chapter, I primarily run social media committee for national, I'm on the internationalism and religious socialism working groups. I help national out with press, digital campaigns and outreach for campaigns and candidates we endorse. I've helped national pursue a distributed organizing model, shift to a 50 state strategy and become invested in digital organizing. I led most of our record breaking recruiting pushes and surges. As chapter chair for CNJ, I helped put together and launch Medicare for All and sanctuary county campaigns. I've also helped mentor a lot of new chapter leaders within the organization.
He is running to "continue building DSA up into a mass political organization that covers every part of the country -making DSA a truly multi-tendency organization that has Marxist representation on the NPC."[3]
2017-2017 DSA NPC members
Members elected to the Democratic Socialists of America National Political Committee, August 2017;
References