Carter Page
Jump to navigation
Jump to search
Carter Page is an American businessman who was falsely targeted[1] by the FBI during Donald Trump's presidential campaign in 2016.
Trump adviser
A globe-trotting American investment banker who's built a career on deals with Russia and its state-run gas company, Carter Page says his business has suffered directly from the U.S. economic sanctions imposed after Russia's escalating involvement in the Ukraine. When Donald Trump named him i March 2016, as one of his foreign-policy advisers, Page says his e-mail inbox filled up with positive notes from Russian contacts. "So many people who I know and have worked with have been so adversely affected by the sanctions policy," Page said in a two-hour interview last week. "There's a lot of excitement in terms of the possibilities for creating a better situation."
Over the course of his campaign, Trump has been a contrarian on Russia, floating the idea of reducing the American commitment to NATO and calling Russian President Vladimir Putin a "strong leader." "I think I would have a very good relationship with Putin," he said last year. So it makes sense that Trump tapped Page for his foreign-policy team. In writings posted online, Page is a reliable defender of Russian intentions, and portrays U.S. policymakers as stuck in an outdated Cold War mindset.
Page's career path, too, seems to mesh with Trump's philosophy. A billionaire developer and entertainer with no government experience, Trump isn't hiring the typical Washington policy wonks as he pursues the Republican presidential nomination. Instead, he favors advisers with what one of his staffers described to the New York Times as "real world" experience.
That background also carries risks, as Page, 44, readily acknowledges. Page says his parallel career as a foreign-policy expert has occasionally faced skepticism over his business ties to Russia and his favorable view of its leadership.
"It is a question I get so frequently—I lost count many decades ago," he said. "There's a very negative conventional wisdom that these are all crooks and bad guys."
Page said his experience advising Russian companies and pitching deals in places like Turkmenistan will offer Trump a more practical perspective than what's available from "people from afar, sitting in the comfort of their think tanks in Washington."
Page wouldn't discuss his policy views in detail, saying that his work with the Trump campaign is at an early stage and that he doesn't want to speak out of turn. He wouldn't say whether he's met or spoken with the candidate yet, or how they connected. But he described a career marked by a lifelong fascination with Russia and Central Asia, and a determination to drum up business there even in the face of political headwinds.
Page left little doubt that he favors deeper engagement with Russia. But he insisted that his work on the Trump campaign isn't likely to benefit his business interests, and one project may even need to be put on hold because of it. "I spend my evenings and weekends working on ideas, as opposed to trying to make the next buck," he said.[2]
Russia connection
Page's interest in Russia dates to his youth in New York's Hudson Valley. Watching a TV news program on arms control talks, he says he noticed that the adviser sitting behind President Ronald Reagan wore a Navy uniform. A few years later, Page enrolled in the U.S. Naval Academy. He later worked in arms control at the Pentagon and completed a fellowship at the Council on Foreign Relations in New York. Over his career, he's earned three graduate degrees, including a Ph.D from SOAS University of London.
In 2000, Page took up investment banking, getting a job at Merrill Lynch's capital-markets group in London. After impressing a colleague with his relationship with Victor Pinchuk, a Ukrainian billionaire, he says he was dispatched to help open the firm's Moscow office in 2004.
In Russia, Page developed relationships with executives at Gazprom, the former Soviet gas ministry that was partially privatized in the 1990s. By the time Page arrived, Putin was consolidating his grip on the country's economy, and in 2005 the government boosted its stake so that it again owned a majority of the stock.
Page says he advised Gazprom on its largest deals during this period, such as buying of a stake in the Sakhalin oil and gas field in the Sea of Okhotsk. He also helped the company court Western investors, assisting in setting up the first regular meetings with shareholders in New York and London. Before he moved back to New York in 2007, he says, many of its top officials showed up at his going-away party, at a restaurant near the Kremlin.
Page gets mixed reviews from former bosses. Bernie Sucher, Merrill's country head in that era, said Page "has a nuanced and subtle appreciation of the interplay of politics and energy." But Sergey Aleksashenko, another top Merrill executive in Russia at the time and now an outspoken Kremlin critic, described him as a junior banker with little understanding of the country. "I could not imagine Carter as an adviser on foreign policy," Aleksashenko said. "It's really surprising."
After returning to New York, Page says he took a buyout from Merrill in 2008 to start his own firm, known as Global Energy Capital LLC. He traveled to Turkmenistan that year, talking about raising a $1 billion private equity fund to buy assets in the former Soviet republic, and meeting with top government officials.
The fund never materialized—the global financial crisis struck later that year—and since then, Page says he's mostly done low-profile advisory assignments, such as counseling foreign investors on buying assets in Russia. In some of the deals, he's worked with Sergey Yatsenko, a former deputy chief financial officer at Gazprom who is now an official adviser to Page's firm.
"He understands what's going on in Russia," Yatsenko says. "He doesn't make strong judgments."
Yatsenko says he worked with Page on helping a Russian investor explore an oil investment in Iraqi Kurdistan, and advising a Chinese investor looking to buy Russian oil assets in Eastern Siberia. Page wouldn't discuss specific deals.
Another project involved developing natural-gas-powered vehicles in Russia, possibly in partnership with Gazprom, Yatsenko says. But the sanctions put those talks on hold.
The U.S. and Europe imposed trade restrictions in 2014 after Russia annexed the Ukrainian territory of Crimea and aided pro-Russian forces in the country. They apply to what President Barack Obama called "cronies and companies that are supporting Russia's illegal actions in Ukraine." Gazprom, now led by a former Putin aide, is among those targeted.
Besides drying up some of his potential deals, the sanctions have hurt Page in other ways. He says he's an investor in Gazprom—he still attends the annual investor meetings—and blames the trade restrictions for helping drive down the stock. [3]
Bahrain connection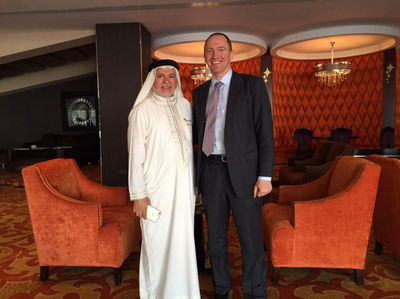 Carter Page with Hadi Al Alawi, chairman of Al Hayat Group, in Bahrain
Trump connection
In March 2016, Page says he traveled to a Phoenix, Arizona, suburb to hear Trump address a crowd. Some media reports on the rally focused on protesters who tried to block a road, but Page says he never noticed them. All he saw was a crowd of enthusiastic supporters, many of them senior citizens willing to wait in the hot sun for a chance to hear the candidate speak.
For Page, it was a kind of dissonance that felt familiar from his work in Russia. "The three protesters who blocked the road, versus the 20,000 people who were positive and enthusiastic," he says. "There's a lot of misperceptions in the public understanding of things."[4]
Spy connections
Russian intelligence agents working in New York City met with Carter Page, a one-time foreign-policy adviser to President Donald Trump, and attempted to recruit the business consultant as a spy in 2013.
While the effort was ultimately unsuccessful as the FBI broke up the spy ring in 2015, the meetings between Page and the Russian intelligence officers constitute one of the most substantive ties to date between a member of the Trump camp and Russian intelligence.
In a 2015 complaint describing the FBI's investigation of the spy ring, Page is only identified as "Male-1." BuzzFeed first reported that Page is the business consultant in question, and he has confirmed it.
The new revelations will almost certainly mean more scrutiny for Page, an otherwise obscure figure who catapulted to prominence last year after Trump said the former investment banker was advising the campaign.
In 2013, though, Russian intelligence took a dim view of Page. In the 2015 complaint that details an FBI investigation into a three-man Russian spy ring, the foreign agents describe their attempt to recruit Page, describing him as an ambitious climber eager to make money in Russia's energy sector.
"He got hooked on Gazprom," Victor Podobnyy, an officer of the SVR, Russia's foreign intelligence agency, told his boss, Igor Sporyshev. "It's obvious that he wants to earn lots of money."
Podobnyy, officially an attaché to the Russian mission of the U.N., told the Page that he would work with Sporyshev, as Russia's trade representative in New York, to win contracts for Page. "He went to Moscow and forgot to check his inbox, but he wants to meet when he gets back," Podobnyy told Sporyshev on April 8, 2013. "I think he is an idiot and forgot who I am." Podobnyy noted that Page wrote him emails in Russian "to practice," and said "he flies to Moscow more than I do."
But Podobnyy never intended to deliver on those promises and instead pumped Page for information.
"This is intelligence method to cheat, how else to work with foreigners? You promise a favor for a favor," Podobnyy told his supervisor. "You get the documents from him and tell him to go f-ck himself."
According to a summary of the allegations against the Russian spies, Page provided Podobnyy with his views on the future of the energy industry, as well as related documents. Collecting such information about the Western outlook on the energy industry, the lynchpin of the Russian economy, would represent one key task for Moscow agents stationed in the United States. All three defendants in the complaint worked in the economics division of the SVR.
Based on the FBI complaint, it appears Page never realized his Russian contact worked on behalf of Moscow's intelligence services.
In a statement to ABC News, Page said his contact with the Russian operative only consisted of sharing "basic immaterial information and publicly available research documents."
Page's exact role in the Trump campaign remains unclear, and the White House has repeatedly sought to distance itself from the energy consultant. When Trump revealed Page's involvement in the campaign in a March interview with the Washington Post editorial board, Washington foreign-policy hands didn't know what to make of the man. A relative unknown, Page's views were something of a mystery, and he lacked government experience.
Since then, Page has emerged as a central figure in the shadowy relationship between the Trump team and Moscow. An advocate of closer relations between Russia and the West, Page travelled to Moscow for a July 7 speech.
That trip is now a focus of congressional and FBI investigators examining whether the Trump lieutenants colluded with the Kremlin in its campaign to hack into American political institutions and leak the fruits of those raiding missions to boost Trump's campaign.
A dossier of unconfirmed intelligence reports authored by a former British spy, Christopher Steele, alleges that Page met with the head of Russian oil giant Rosneft Igor Sechin, considered to be one of President Vladimir Putin's key deputies. According to Steele's reporting, Page and Sechin discussed lifting sanctions imposed on Russia as a resulted of its annexation of the Crimean Peninsula and support of pro-Russian insurgents in eastern Ukraine. Parts of the Steele dossier were summarized in intelligence briefings for then-President Barack Obama and President-elect Trump in January.
In one of its most explosive allegations, the Steele dossier claims that Page also met with a member of the Russian government during his July trip. During that meeting, the Russian official, Igor Divyekin, allegedly revealed that the Kremlin had in its possession compromising information on Hillary Clinton and discussed releasing it to the Trump campaign.
According to Steele, Divyekin may also have hinted that the Kremlin was also in possession of so-called "kompromat" on Trump, which Trump "should bear in mind in his dealings with" Russia.[5]
References