Communications Workers of America
From KeyWiki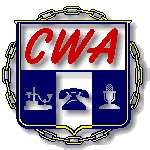 The Communications Workers of America (CWA) is an American union for workers in the communications industries. It is a member organization of the AFL-CIO.
CWA, the largest telecommunications union in the world, represents over 700,000 men and women in both private and public sectors, including over half a million workers who are building the Information Highway.
CWA members work in telecommunications, broadcasting, cable TV, journalism, publishing, manufacturing, airlines, customer service, government service, health care, education and other fields.[1]
Executive Board - 2010:[2]
National Officers
District Vice-Presidents
Sector Vice-Presidents and Canadian Director
At-Large Members
"Single - payer" movement
According to Michael Lighty, a former National Director of Democratic Socialists of America, and Director of Public Policy for the California Nurses Association/National Nurses Organizing Committee, writing in DSA's Democratic Left, Winter 2007/2008 .[3]
There's a growing movement for single-payer universal healthcare. The movement is led by activists in Healthcare-Now!, doctors in the Physicians for a National Health Program, nurses in the California Nurses Association/National Nurses Organizing Committee, leaders in labor unions such as United Steelworkers of America and Communication Workers of America, activists in the Progressive Democrats of America, and Congressman John Conyers, with the support for HR 676 by 300 union locals, 75 Central Labor Councils, and 25 state Federations of Labor, and hundreds of clergy and faith-based organizations, as well as civil rights, women's and healthcare advocacy groups in the Leadership Conference for Guaranteed Healthcare.
The policy proposals developed by Beltway think tanks and the principles for reform adopted by the AFL-CIO confer support for single-payer while allowing for private insurance-based approaches as well. Other bills in Congress, notably sponsored by Ted Kennedy and John Dingell and "Americare" introduced by Pete Stark, seek to incrementally establish a single-payer system.
External links
References