Committee In Solidarity with the People of El Salvador
From KeyWiki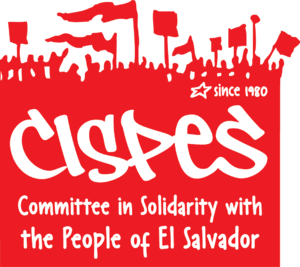 The Committee In Solidarity with the People of El Salvador (CISPES)
Friend of the New American Movement
In 1981, the San Diego branch of the Committee In Solidarity with the People of El Salvador was listed as a friend of the New American Movement. They commented,
Warmest thanks for NAM's whole-hearted support of the people's struggle in El Salvador.[1]
CISPES plans U.S. tour for FMLN representatives
A small article in the CPUSA newspaper People's Weekly World (PWW), Feb. 16, 1991, Page 2,was entitled "CISPES plans U.S. tour of FMLN representatives." The FMLN aka the Farabundo Marti Liberacion Frente was the military arm of the marxist-led guerrilla movement that was trying to overthrow the government of El Salvador.
These representatives, Ramos Cardona and Arnoldo Ramos were to tour the U.S. in March 1991 "under the auspices of the Committee in Solidarity with the People of El Salvador (CISPES). CISPES has been identified in both congressional hearings and U.S. Embassy cables from El Salvador, as well as private research group publications, as a joint propaganda operation of the Communist Party USA (CPUSA) and the Communist Party of El Salvador, the latter led by the marxist Handal brothers, Shafik Handal and Farid Handal[2].
Members of NACLA and IPS also played a major role in the creation of and support of CISPES, along with that of U.S. Representative Ronald Dellums (D-CA).
According to the article, Cardona and Ramos "will speak about links between the Gulf war and the U.S. war in Central America, and will discuss the Bush administration's key objective in the Middle East: to establish itself as the dominant force in the new world order. They will report on the latest developments of the 11-year war in El Salvador."
The contacts within CISPES for this tour included:
Solidarity with Sept. 24 FBI Raid Activists
The Committee to Stop FBI Repression lists Committee In Solidarity with the People of El Salvador as one of the organizations that has issued a statement of solidarity in support of the activists raided in the September 24, 2010 FBI Raids.[3]
References
↑ 10th Anniversary Booklet for the New American Movement, 1981
↑

Second Front: Advancing Latin American Revolution in Washington, Studies in Organization Trends #1, S. Steven Powell, Capital Research Center, 1986 and his book "Covert Cadre: Inside the Institute for Policy Studies, Green Hill, 1987

↑ Committee to Stop FBI Repression: Solidarity Statements (accessed on Oct. 6, 2010)