Brandon Slattery
Jump to navigation
Jump to search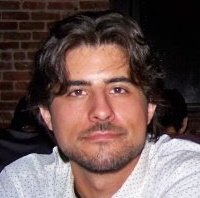 Template:TOCnestleft Brandon Slattery in 2015, was Central Committee at Philly Socialists.
Dynamic Collective 2005
In 2005, the Collective running the Young Communist League magazine Dynamic, consisted of Shane Brinton, Cesar Casamayor, Melissa Chadburn, Julia Donahue, Maya Funaro, Cristina Gallo, Abdul-Aziz Hassan, Molly Kelley, Tony Pecinovsky, Kristy Ringor, Brandon Slattery, Mike Tyner, Keren Wheeler.[1]
Philly Socialists 5th Annual Organizational Congress
Philly Socialists organized a 5th Annual Organizational Congress, Saturday 13 February 2016, Sunday 14 February 2016.
We are committed to creating a just and sustainable future for ourselves and our planet. We fight to extend and deepen democracy within our society — to transform our political and economic system into one befitting of basic human dignity.
Those indicating intention to attend on the Wherevent page for the event included Emily Seiter, Samantha Valentino, Amani Bey, Stephanie Altimari, Isabella Jayme, Loren Anderson, Akshay Walia, Erik Heineman, Klyde Breitton, John Lesmeister, Cranford Coulter, Nhoj Matthews, Jake Kinzey, Andre Felix Melendez, Tim Horras, Alec Foster, Charles Sansone, Jeff Klinger, M. Harlan Hoke, Brandon Slattery, Geoff Smith, David Thompson.[2]
Kensington Branch Meeting
Kensington Branch Meeting, 512 W. Berks St. Philadelphia, Pennsylvania, Sunday 7 December 2014, organized by Philly Socialists.
Those signalling intention to attend on Wherevent included Mara Henao, Simon Joseph, Jeff Klinger, Mike Kaminsky, Anthony Shull, Tim Horras, Kevin Brusha, Alec Foster, Brandon Slattery, Cameron Wingnut.[3]
"WHAT IS SOCIALISM?" Teach-ins at UPenn, Drexel, and Temple"
Thursday 4 February 2016, organized by Tina Ngo "WHAT IS SOCIALISM?" Teach-ins at UPenn, Drexel, and Temple".
DYK? "Socialism" was the most searched word on Merriam-Webster in 2015.
The student chapters of Philly Socialists would like to invite everyone to join our student-led teach-ins on what socialism means. The teach-ins will consist of three panels: The History of Marxism: Pre-Marxism and Post-Marxism; Race and Socialism; Gender and Socialism.
Dates, location, and time are still to be determined. Updates coming soon!
People signalling their intention to attend on Wherevent included Stephanie Altimari, Jj Rodriguez , Jon Lange, Melissa Stafford, Brandon Do, Rhiannon Wright, Christopher Hauff, Klyde Breitton, Nhoj Matthews, Constance Lee, John T. Kaye, Akshay Walia, Jake Kinzey, Dan Beccaria, Jr., M. Harlan Hoke, Alan Warsaw, Peirce Law, Michelle Freeman, Adriane Coleman, Maddie Bird, Pearl Joslyn, Brandon Slattery, David Thompson, Samantha Valentino, Isabella Jayme, Maní Martinez, Christopher Hauff, Amani Bey, Tim Horras, Madeline Connor, Kellen O'Connor, Cornelius Moody, Christopher Turner, Alaina Pell, Gabriella Upadhyay, Rina Mascitti, John Lesmeister, Andrew Macaroni, Carlisle Quinn, Charles Sansone, Miranda Krause, Samantha Schwartz, Scott Jenkins, Frankie Bosco, Hoe Chi Minh, Michelle Freeman, Lucas Lipatti, Amanda McIllmurray, Norah Andrea La Torre, Shannon Myers, Alex Sobrinski, Carolyn Esposito, Mara Henao, Jorge Mancilla, Alaina Pell, Cornelius Moody.[4]
"Debate On Marxism-Leninism"
2605 S. Darien St. Philadelphia, February 6, 2016 "Debate On Marxism-Leninism" organized by Jake Kinzey.
Come out and talk about Marxism-Leninism! What is it? What can we learn from it?
Those indicating attendance on the Wherevent website included Andrew Macaroni, Nat Turner-Jackson, Azzizah Abdullah, Kate Faust, Isabella Jayme, Jake Kinzey, Bruce Haskin, John T. Kaye, Bunny Juarez, Samar Shraim, Magdalene Moy, Norah Andrea La Torre, Scott Jenkins, Daniel Pitt, Tim Horras, Constance Lee, Gabriel Salgado, Adam Bleiman, Rina Mascitti, John Lesmeister, Isabell Welsh, Nhoj Matthews, Samantha Valentino, Sasha Lubarskai, Cranford Coulter, Brandon Slattery, Amanda McIllmurray, Hypatia Nacheinander, Akshay Walia, M. Harlan Hoke, Mark R. Eisenstædt, Elsy Marie, Mackenzie Morris, Lucas Lipatti, Jon Lange, Greg Gabrellas, Panagiotis Alexiou, Alan Warsaw, Nelson Maserota, Ethan Jury.[5]
References
References