Ben Margolis
From KeyWiki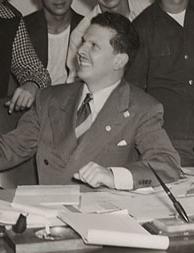 Ben Margolis Esq. of California (1910-1999) was the son of Jewish socialist parents who fled Czarist persecution. His family moved from New York to Santa Barbara when he was a teenager. He was first exposed to the law through a high school class.[1]
National Lawyer's Guild
Margolis was a long-time member of the National Lawyer's Guild.[2]
Famous cases
Ben Margolis defended the famous Hollyood Ten including screenwriters Paul Jarrico, Dalton Trumbo, John Howard Lawson and Alvah Bessie, Oscar-winner Ring Lardner, Jr. and director Edward Dmytryk.
Ben Margolis also defended the 22 mostly Mexican-American young "zoot suiters" in the sensational Sleepy Lagoon murder case of 1944, and 13 Southern California Communist Party leaders prosecuted under the 1940 Smith Act, including Ben Dobbs and Dorothy HeaJy—also long time DSA members.
In the Sleepy Lagoon case Margolis won a reversal of the convictions on the grounds that the defendants were denied their right to consult with their lawyers. That case established the right of defendants to free access to counsel during trial.
Margolis defended Harry Bridges, the famous leader of the West Coast-based International Longshoremen's and Warehousemen's Union against U.S. accurate government charges that he was a Communist. Margolis always took a militant stance in these situations, saying after he was subpoenaed to face HUAC in 1952, "I'll fry in hell before they get any information out of me about my clients."[3]
Yates vs. the United States
Margolis was a major defender of those indicted under the Smith Act. In 1957 the case was won, making void the prosecution of those indicted under the Act.[4]
Herbert Aptheker Testimonial Dinner
On April 28, 1966 Ben Margolis was a sponsor of the Herbert Aptheker Testimonial Dinner. The dinner was held on the occasion of Herbert Aptheker's 50th birthday, the publication of his 20th book, and the 2nd anniversary of the American Institute for Marxist Studies. It was held in the Sutton Ballroom, The New York Hilton, Avenue of the Americas, 53rd to 54th Street, New York City. Most speakers, organizers and sponsors were known members or supporters of the Communist Party USA.[5]
GI Civil Liberties Defense Committee
Circa 1969, Ben Margolis, Esq., Margolis and McTernan, Los Angeles, California , was listed as a sponsor of the Socialist Workers Party led GI Civil Liberties Defense Committee .[6]
Leaving the Party/NAM
In the early 1970s, Dorothy Healey, Ben Dobbs and a group of their former California comrades, including housing and civil-liberties activist Frank Wilkinson and attorneys Margolis and John McTernan left the Communist Party USA. They later joined the New American Movement and eventually Democratic Socialists of America.[7]
Dorothy Healey, John McTernan and Ben Margolis were all in the same Southern California New American Movement branch with Paul Jarrico and Bill Jarrico.[8]
Turned down for China trip
In April 1974 Hugh DeLacy wrote to Mme. Wu, Peoples Republic of China representative in Ottawa, requesting that a party be allowed to visit the PRC. Those requested to visit were[9];
In December 1974 Delacy recieved a reply from Hu Hung-fan of The Chinese Peoples Association For Friendship With Foreign Countries, Peking, China, inviting the DeLacy's but declining the rest.
New American Movement
In 1981, Ben Margolis, John McTernan, Howard Sacks, David Epstein, Barbara Hadsell and Jim Varga congratulated the New American Movement on the occasion of its 10th anniversary.[10]
New American Movement Speakers Bureau
In the 1980s Ben Margolis was a speaker on the The Left & People's History section of the NAM Speakers Bureau on the subject of Civil Liberties Under Capitalism.[11]
Tribute to Ben Dobbs
On Sunday, June 7, 1981, the Los Angeles Chapter of the New American Movement sponsored a Tribute to Ben Dobbs for "His lifelong commitment to socialism". The event was held at the Miramar-Sheraton Hotel, Santa Monica, California. Sponsors of the event included Ben Margolis.[12]
Los Angeles DSA
In 1982 Ben margolis was on the Advisory Committee of Los Angeles Democratic Socialists of America[13].
In 1985, Ben Margolis Attorney at Law, served on the Advisory Committee of Los Angeles Democratic Socialists of America.[14]
DSA potential donors list
On January 21, 1992 Steve Tarzynski, National Political Committee of Democratic Socialists of America, wrote a letter to "Harold" (probably Harold Meyerson).
"Following is the list of possible major donors I can think of to pledge support for Trish and our program in southern California. Additions and comments sorely needed."
Question marks in original list.[15]
Los Angeles DSA potential donors list
On July 26 1992 California Democratic Socialists of America leader Steve Tarzynski wrote a draft "major donor letter" for Southern California DSA, inviting donors to join the Upton Sinclair Club of DSA[16]
We know you have been generous in supporting DSA's important work in the past. We'd like to develop a core of at least twelve people who will pledge 1,000 annually to keep our Organization working for Southern California DSA. We invite you to be one of those people. This select group of members and friends would have a key role in rebuilding a democratic left opposition in California.
This unique group of individuals would form the "Upton Sinclair Club" which will act in an advisory role meeting with the Southern California DSA leadership at an annual brunch. Sinclair Club members will receive a quarterly bulletin reporting on Southern California DSA's progress, and will have an opportunity to meet international DSA spokespeople and international guest speakers in more intimate small group settings. Admission to all local, statewide, and national DSA events in the Southern California would be complimentary with membership in the Sinclair Club.
The draft was accompanied by a "List of Potential major donors to DSA"
Upton Sinclair Club
In the early 1990s, Margolis of Los Angeles was a member of the Upton Sinclair Club, of Democratic Socialists of America. The club consisted of wealthy Californians able to contribute significant donations to DSA.[17]
References