Allard Lowenstein
From KeyWiki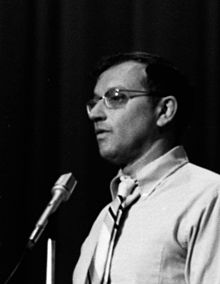 Allard Lowenstein
NSA
In 1951 Lowenstein was president of the National Students Association.
Convinced McCarthy
In 1967, Allard Lowenstein convinced Senator Eugene McCarthy to challenge Lyndon Johnson in the Democratic primaries. McCarthy demonstrated that anti-war politics could be winning politics and brought along Robert Kennedy, not to mention hundreds of thousands of new political activists.[1]
Vietnam Veterans Against the War/Operation RAW
During the Labor Day weekend of September 4-7, 1970, Operation RAW ("Rapid American Withdrawal") took place. It was a three day protest march from Morristown, NJ, to Valley Forge State Park by over 200 veterans. It was sponsored by Vietnam Veterans Against the War. They were joined by members of Nurses for Peace and other peace groups. Dressed in combat fatigues and carrying toy weapons, the march was designed to dramatize a Vietnam-type search and destroy mission to the Middle America they passed through. Upon entering each town along the march, sweeps were made, prisoners taken and interrogated, property seized and homes cleared with the assistance of previously planted "guerrilla theater" actors portraying civilians. The 86 mile long march culminated in a four hour rally at Valley Forge that over 1,500 people attended. The honorary commander during this event was retired Army Brigadier General Hugh B. Hester. Sponsors included Senators George McGovern and Edmund Muskie, Rep. John Conyers, Paul O'Dwyer, Mark Lane, and Donald Sutherland. Scheduled speakers were John Kerry, Joe Kennedy, Rev. James Bevel, Mark Lane, Jane Fonda, and Sutherland. Congressman Allard Lowenstein, Mike Lerner, and Army First Lt. Louis Font also spoke.[2]
References
↑

The Philadelphia Inquirer, Sept. 8, 1970, page 33