Alice Wolf
From KeyWiki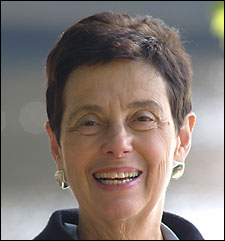 Alice K. Wolf is a State Representative from Massachusetts, representing the 25th Middlesex District in Cambridge. She was elected to the Massachusetts House of Representatives in 1996 after serving the people of Cambridge as Mayor, Vice Mayor, City Councillor and School Committee Member.
Representative Wolf's priorities include education, health care, equal rights for gays and lesbians, affordable housing, immigrants' rights, and serving her constituents. She is the House Chair of the Committee on Elder Affairs and of the Women's Legislative Caucus.[1]
Awards
Representative Wolf has received numerous distinguished honors and awards including the Executive Office of Health and Human Services Department of Mental Health 2010 Certificate of Appreciation; the 2009 School-Based Health Center Legislative Champion Award; the 2007 NOW Legislator of the Year; the 2007 Byron Rushing Freedom of Religion Award from the Religious Coalition for the Freedom to Marry; the 2006 Massachusetts Family Planning Association Leadership Award; the 2005 Champions of Children Award from Massachusetts Advocates for Children; and the 2005 Early Education Leadership Award from the Massachusetts Association of Community Partnerships for Children.[2]
Background
Born in Austria, Representative Wolf came to America at the age of five with her family, fleeing the Nazi regime. She earned a B.S. from Simmons College and later an M.P.A. from Harvard University's John F. Kennedy School of Government. In 2001, she received an honorary Doctor of Education degree from Wheelock College. She and her husband Robert Wolf have two sons. [3]
Bernie Sanders fundraiser
On June 13 2006, almost 50 supporters attended a fundraiser at the Somerville Massachusetts home of Dick Bauer and Roberta Bauer to help Congressman Bernie Sanders in his quest to become the next U.S. Senator from Vermont. The reception, organized by local volunteers as part of a national project of the Democratic Socialists of America Political Action Committee, raised almost $5,700 for the Sanders Campaign. Sponsors of the event included Boston City Councilor Felix Arroyo, State Senator Patricia Jehlen, and State Representatives Anne Paulsen, Carl Sciortino, Alice Wolf and Denise Provost. Denise Provost was also one of the featured speakers, along with DSA member Rand Wilson of IUE-CWA 201, and Bernie Sanders' son Levi Sanders. [4]
Health Care "hero"
According to Michael Carr, campaign manager for the Health Care Amendment Campaign, writing in Boston Democratic Socialists of America's The Yankee Radical, August 2006;
"The proposed Health Care Constitutional Amendment that would ensure every Massachusetts resident access to comprehensive and affordable health care was scheduled to receive its final vote on July 12th when the Legislature reconvened in Constitutional Convention...
The Health Care Amendment received its initial approval at the July 2004 ConCon on a 153-41 vote, and only needed 50 votes in this ConCon to get on the November 2006 ballot. But instead of an up or down vote, the ConCon decided 118-76 to send the Amendment to a special committee for further study.
Legislators opposed to sending the Amendment to committee argued that affordable, comprehensive and equitably financed health care should be part of the state's constitution and that the Amendment was necessary to make sure the new health reform law is implemented properly. They also argued that the Amendment would be available if additional reforms were needed.
Health Care Heroes of the day included Senators Steve Tolman, Mark Montigny, Marc Pacheco, Pat Jehlen and Representatives Ruth B. Balser, Deborah Blumer, Alice Wolf, and Jamie Eldridge".[5]
Supported Progressive Health Care Reform
In late 2009, Alice Wolf was one of more than 1,000 state legislators to sign a letter entitled "State Legislators for Progressive Health Care Reform". The letter was a project of the Progressive States Network and was developed in consultation with national health care reform advocates, including the AFL-CIO, AFSCME, Community Catalyst, Families USA, Herndon Alliance, National Women's Law Center, Northeast Action, SEIU, and Universal Health Care Action Network. The letter reads in part,[6]
"Failure to pass national comprehensive health reform now will further jeopardize state and local budgets, undermining public services like education, public safety, and transportation infrastructure... We, the undersigned, call on President Obama and the Congress to enact bold and comprehensive health care reform this year – based on these principles and a strong federal-state collaboration – and pledge our support as state legislators and allies in pursuit of guaranteed, high quality, affordable health care for all."
"Budget for All"
November 6, 2012 - by a three to one margin, Massachusetts voters "sent a clear message to both Democrats and Republicans in Washington about the federal budget crisis and the impending "fiscal cliff"". The Budget for All ballot question passed by 661,033 to 222,514 votes. It calls for no cuts to Social Security, Medicare, or other vital programs; investment in useful jobs; an end to corporate tax loopholes and to the Bush cuts on taxes on high incomes; withdrawal of U.S. troops from Afghanistan now; and redirection of military spending to domestic needs and job creation. The question passed by a wide margin in every district and all 91 Massachusetts cities and towns where it appeared on the ballot, ranging from most of Greater Boston to Holyoke to Norwood, Lawrence and Fall River.
Initiated by over 80 community, peace, labor, and faith groups, the Budget for All was supported by State Treasurer Steve Grossman, State Auditor Suzanne Bump, and Representatives Barney Frank, Mike Capuano, Jim McGovern and Ed Markey, along with 10 State Senators, 18 State Representatives, and 15 city councilors.[7]
State Senators backing the initiative were William Brownsberger, Sonia Chang-Diaz, Sal DiDomenico, Kenneth Donnelly, Pat Jehlen, Thomas McGee, Stanley Rosenberg, Dan Wolf.
State Representatives were Cory Atkins, Linda Dorcena Forry, Sean Garballey, Louis Kafka, Jay Kaufman, Jason Lewis, David Linsky, Denise Provost, Frank I. Smizik, Ellen Story, Timothy Toomey, Jr., Marty Walz, Alice Wolf.
Leaders of the movement were;
References