Alexandra Dudley
From KeyWiki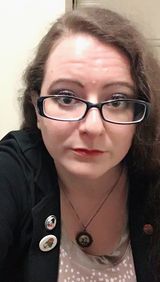 Alexandra Dudley
NPC candidate
In August 2017 Alexandra Dudley stood for election to the Democratic Socialists of America National Political Committee, at the National Convention in Chicago, from Democratic Socialists of America North Bay.[1]
I'm a white cis queer lady with 30-something years of experience being alive. I've been described as an "Internet Den Mother" and an "OC Project Manager." My socialism comes from my heart, rather than my head; I am led by what I feel is right and best, not by years of study. I give great hugs.
NPC needs more representatives from the anarchist side of the political compass, who will strive to maintain the autonomy of locals and resist any tendency towards the centralization of power as the organization grows.
Mine was the kick that started the North Bay DSA OC in motion. In the few short months we have been in existence, North Bay has worked in coalition with other local groups, including El Pueblo Unido and the Community Action Coalition. We participated in a successful campaign to recall a local sheriff, have canvassed for ballot measures and single payer healthcare, and projects in the planning stages include a community co-op vegetable garden and socialist emotional support group.[2]
DSA Friends and Comrades coalition
The DSA Friends and Comrades coalition stood several people for DSA national Political committee at the Democratic Socialists of America August 2017 National Convention in Chicago.
According to John Michael Colon;
The DSA Friends and Comrades coalition is something that came out of DSA Libertarian Socialist Caucus members and was organized by LSC members informally and hasn't been approved by the group. We wish them well, and some of us will vote for them and promote them on our social media, but they don't represent the LSC. Next convention we aim to organize a primary and democratic process to put forward a slate. [3]
Members who stood were Dele Balogun, Jordan Buchman, Jetta Rae Robertson, Alexandra Dudley, John Hieronymus, Alexander Kolokotronis, Brad McGarr, Jack Suria Linares, Dan Pozzie, Brandon Payton-Carrillo.[4]
References