Alan Cranston
From KeyWiki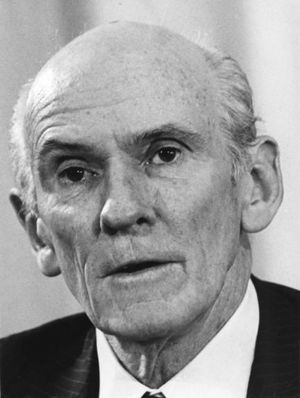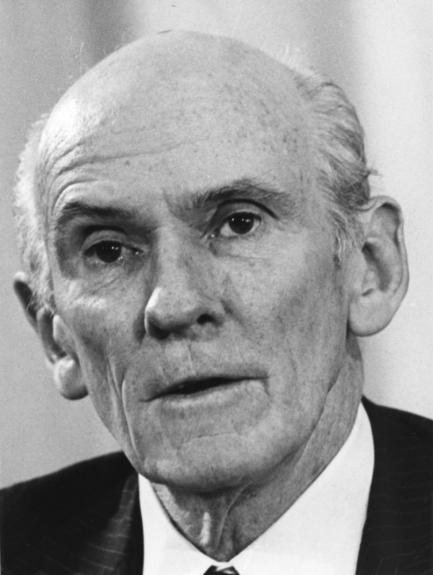 Alan Cranston was the senior Senator from California, serving in the Senate since 1969. He was also the Majority Whip, having been elected Democratic Whip in 1977.
Security disaster
Cranston has a consistent record of voting against almost all aid to countries fighting Communist aggression or insurgencies, including South Viet Nam and El Salvador, and for refusing to support anti-communist movements fighting for democracy in Communist dictatorships like Nicaragua, Angola, Mozambique etc.
His 1988 American Security Council rating was 0%.[1]
Office of War information
In World War II Cranston was Chief of the Foreign Language Division of the Office of War Information, the U.S. information and propaganda organization.
In this position he made several surprisingly pro-communist moves.
Karr connection
For example, Cranston recommended that the OWl hire David Karr, as "a senior liaison officer working with other Federal agencies." Karr had been writing for the Communist Party USA newspaper, The Daily Worker, as well as for Albert Kahn, an author who was later revealed in Congressional testimony to be a Soviet agent.
In spite of this record, Cranston recommended Karr for employment, claiming that he knew he had worked for The Daily Worker but did not know he was a communist.
After the War Karr launched a successful career in international finance and became even more active in pro-communist work. In 1975, for example, he arranged a $250 million credit for the Soviet, Foreign Trade Bank.
His main contact in Moscow was reported to be Djerman Gvishiani, deputy chairman of the Soviet State Committee for Science and Technology and son-in-law of Soviet Premier Kosygin.[2]
Cranston remained a long time friend of Karr and said later that Karr "had a strong social conscience that made him an intense promoter of Detente."[3]
Tresca affair
While with the OWl in World War II, Cranston had also made other statements paralleling the communist line.
One concerned the assassination of Carlos Tresca in 1943. Tresca had been an Italian Communist, but broke with the party and became an intense opponent of the Stalinists and was allied with the Anarchists. He was gunned down in New York City in January 1943. His widow and friends said he had been slain because of his refusal to enter into a United Front with the Communists.
Alan Cranston, however, issued a statement as an OWl official that Tresca had not opposed the Communists in a United Front organization, the Victory Council.[4]
Anti anti communist
Throughout his career in the Senate, Cranston was one of the most radical in opposing aid to countries fighting Communist insurgencies like South Viet Nam and El Salvador, and for refusing to support anti-communist movements fighting for democracy in Communist dictatorships like Nicaragua, Angola, Mozambique etc.
During the 1988 Presidential primaries when he was one of the Democratic contenders, he continued to show this tendency.
During the New Hampshire primary, Cranston took part in a forum for all the candidates moderated by Barbara Walters.
There were many reports at that time about the growing economic crisis in Mexico and increasing evidence of Communist agitation and subversion encouraged by Castro's Cuba. Walters asked each candidate about what his reaction would be to a Communist takeover in Mexico.
Cranston refused to be alarmed by the prospect and instead switched to a criticism of U.S. policy toward the hard-pressed anti-communist government of El Salvador. "We have backed tyrants or even imposed tyrants on other people," he said. "The Mexican government is telling the U.S. to stop what you're doing in El Salvador, stop backing the tyranny there, stop trying to overthrow the government of Nicaragua, and we will be able to take care of our problems."[5]
Cuba recognition drive
In 1972, a coalition of congressmen, radical activists and some communists spearheaded a drive to relax relations with Fidel Castro's Cuba.
Under, the auspices of Sen. Ted Kennedy (D.- Mass.) and Sen. Harold Hughes (D.-Iowa), a two day conference of liberal scholars assembled in April, in the New Senate Office Building to thrash out a fresh U.S. policy on Cùba.
Among congressional sponsors of the seminar were Sen. J. William Fulbright (D.-Ark.) and Sen. Jacob K. Javits (R.-N.Y.), both influential members of the Senate Foreign Relations Committee; Sen. George McGovern (D.-S.D.), Rep. Bella Abzug (D~-N.Y.) and Rep. Ron Dellums (D.-Calif.).
Other sponsors included Senators Alan Cranston (D-CA), Mike Gravel (D - Alaska), Fred Harris (D - OK), Philip Hart (D - MI), George McGovern (D - SD) and Frank Moss (D - UT)
Congressmen Joseph Addabo (D - NY), Herman Badillo ( D - NY), Alphonzo Bell (R -CA), Jonathan Bingham (D - NY), John Brademas (D -Indiana), Donald Fraser (D - Minn.), Seymour Halpern (R - NY), Lee Hamilton (D - Ind.), Michael J. Harrington (D - MA), Patsy Mink (D -HI), Parren Mitchell (D - MD), Charles Rangel (D - NY), Thomas Rees (D - CA), William Fitts Ryan (D - NY), Ogden Reid (D - NY), Benjamin Rosenthal ( D - NY), Morris Udall ( D - AZ).
Secretary of the New York State Communist Party USA, Michael Myerson was among the observers.
One panelist, John M. Cates, Jr., director of the , Center for Inter-American Relations, matter of factly remarked during the discussions: "So why are we here'? We're here so Sen. Kennedy can have a rationale to get our country to recognize Cuba."
The conference was financed by a New York-based organization called the Fund for the New Priorities in America, a coalition of groups clearly sympathetic to many pro-Communist causes.
The Fund was virtually the same group as the Committee for Peace and New Priorities, a pro-Hanoi group which bought an ad in November 1971 in the New York Times demanding Nixon set a Viet Nam withdrawal date. Both the Fund for the New Priorities and the Committee for Peace, were located at the same address in New York.[6]
Nuclear Freeze
During the 1979 SALT II debate, Oregon's far left Republican Senator Mark Hatfield introduced an amendment that called for a "strategic weapons freeze," which helped provide the impetus for the popular Nuclear Weapons Freeze Campaign and would ricochet back into Washington and prompt Hatfield and other members of Congress to act.
As tensions between Washington and Moscow mounted in 1982 and the two countries built up their nuclear arsenals even further, Hatfield and other members of Congress 'heard from their constituents", who sought a way off the escalatory ladder and were calling for a "nuclear freeze" with the Soviet Union on the testing, production, and deployment of nuclear warheads and delivery systems.
"We heard from people at every stop who knew about the nuclear freeze proposal and wanted us to support it. 'Why not?' they asked. We found that question difficult to answer," Hatfield and Senator Edward Kennedy (D-Mass.) later explained in their 1982 book Freeze! How You Can Help Prevent Nuclear War. "A new arms control initiative was needed to offer leadership in Congress and respond to the growing public concern," they wrote.
On March 10, 1982, Hatfield and Kennedy joined House proponents of the freeze, including Representative Edward Markey (D-Mass.), to introduce a "sense of Congress" resolution based directly on a widely disseminated document, "Call to Halt the Nuclear Arms Race," developed by Randall Forsberg, a Massachusetts Institute of Technology defense policy expert who would later join the board of directors of the Arms Control Association. With the backing of Hatfield and Kennedy, the effort gained broad-based popular and expert support, national attention, and increasing political momentum.
Following new Soviet leader Mikhail Gorbachev's announcement in July 1985 that the Soviet Union would forgo tests and that the Soviet Union would not test until and unless the United States began testing, the Reagan administration declined to reciprocate. In October 1986, a bipartisan group of 63 House and Senate members, led by Hatfield, Senator Alan Cranston (D-Calif.), Representative Les Aspin (D-Wis.), and others, sent a letter to Reagan urging him to reciprocate and call off the next scheduled test in Nevada, code-named Glencoe.
Cranston and Hatfield also introduced legislation seeking to bar the spending of money to carry out U.S. nuclear tests if the Soviet Union was not doing so. Their initiative did not succeed, but it would get another chance.[7]
"Friends of Ireland"
March 16 1981, twenty-four American political figures, most of them of Irish ancestry, urged an end to the fear and the terrorism and the bigotry in Northern Ireland and proposed that the Reagan Administration find a way to promote a peaceful settlement of the Ulster conflict.
In a joint St. Patrick's Day statement, the 24 - including Governor Carey, Governor Byrne, Senator Daniel Patrick Moynihan of New York and Senator Edward M. Kennedy of Massachusetts -announced the creation of an organization seeking to facilitate greater understanding of the positive role America can play resolving this tragic conflict.
They stressed that the organization, known as the Friends of Ireland, will seek the unification of the six counties of Northern Ireland with the Irish Republic but that the goal can be reached only with the consent of a majority of the people of Northern Ireland, and with full safeguards for the rights of both sections of the community.
It was the fourth consecutive year that the group had issued a statement on St. Patrick's Day calling for an end to violence in Ulster, but it was the first time it had sought to define a role for the United States. The group was set up to counter a vocal lobby for the Irish Republican Army.
Two-thirds of the people of Northern Ireland are Protestants, while the Irish Republic is overwhelmingly Roman Catholic. Efforts to resolve the violent conflict between Protestants and Catholics, and work out a settlement aimed at erasing the border, have been thwarted by terrorists on both sides.
The statement urged the Administration to play a constructive role in Northern Ireland and support a policy that helps bring terrorism to an end, that demands respect for the human rights of all the people of Northern Ireland, that recognizes the legitimate aspirations of both the Protestant and Catholic communities, and that strengthens the ties between two of America's closest friends - Ireland and Great Britain.
The Irish Government promptly applauded the creation of the group. In a statement released by the Irish Embassy here, Prime Minister Charles Haughey said that the links between the Irish and American peoples, which are of such long standing, will be even further strengthened by the setting up of this group.
In their statement, the political figures said that the Friends of Ireland will be open to all members of Congress and will strive to inform Congress and the country fully about all aspects of the conflict in Northern Ireland.
It will emphasize our concern, the statement said, for both the Catholic and Protestant traditions in Ireland. Besides Governors Carey and Byrne and Senators Moynihan and Kennedy, the following officials signed the statement: The Speaker of the House, Thomas P. O'Neill, Jr. Gov. J. Joseph Garrahy of Rhode Island Senator Joe Biden, Democrat of Delaware, Senator Alan Cranston, Democrat of California Senator Chris Dodd, Democrat of Connecticut, Senator Thomas Eagleton, Democrat of Missouri Senator Daniel Inouye, Democrat of Hawaii Senator, Patrick Leahy, Democrat of Vermont Senator George Mitchell, Democrat of Maine Senator Claiborne Pell, Democrat of Rhode Island, Senator William Proxmire, Democrat of Wisconsin Representative Edward Boland, Democrat of Massachusetts, Representative Charles Dougherty, Republican of Pennsylvania Representative Thomas Foley, Democrat of Washington Representative James Howard, Democrat of New Jersey, Representative Paul N. McCloskey, Jr., Republican of California Representative Joseph McDade, Republican of Pennsylvania Representative Ed Markey, Democrat of Massachusetts. Representative James Shannon, Democrat of Massachusetts, Representative Pat Williams, Democrat of Montana.[8]
IPS advisers
During the 1984 Democratic primaries, Institute for Policy Studies founders Marcus Raskin and Richard Barnet advised George McGovern and Sen. Alan Cranston (D-Calif.), and IPS fellow Saul Landau, an Emmy-winning filmmaker, shot some of McGovern's spots.[9]
Rapoport support
Bernard Rapoport was a lifelong supporter of the Democratic Party, starting with Homer Rainey's gubernatorial campaign in 1946. He later supported Ralph Yarborough, Frances Farenthold, Ted Kennedy, Alan Cranston, and George McGovern, during whose campaign in 1972 Bernard met Bill Clinton and Hillary Rodham. From 1974 onward, Rapoport donated to every one of Bill Clinton's campaigns and served as fundraiser for both presidential bids.[10]
South Africa benefit
On January 17 1986, a benefit concert was held at Oakland's Henry J. Kaiser Convention Center, for the National Emergency Fund of the South African Council of Churches.
Dinner Committee Members included Hon. Alan Cranston, Hon. Leo McCarthy, Hon. Barbara Boxer, Hon. Sala Burton, Hon. Ron Dellums (a DSA member), Hon. Don Edwards, Hon. Tom Lantos Hon. George Miller, Jr. Hon. Norman Mineta, Hon. Pete Stark, Hon. Willie Brown, plus Democratic Socialists of America members Julian Bond, Nancy Skinner, Harry Britt, John Henning, Adam Hochschild, Frances Moore Lappe, Stanley Sheinbaum, Communist Party USA affiliates Wilson Riles, Jr., Maudelle Shirek, Al Lannon, and Irving Sarnoff, and radical socialists Julianne Malveaux, Drummond Pike, John George, Peter Yarrow and actor/activist Sidney Poitier.[11]
Opposed aid to El Salvador
On February 6, 1990, Senators Edward Kennedy and John Kerry introduced a Bill to cut off all aid to El Salvador just a few days after EI Salvador's President Cristiani had come to Washington to discuss the need for such support.
This bill was backed by four other Democratic Senators: Barbara Mikulski of Maryland, Paul Simon of Illinois, Alan Cranston of California and Brock Adams of Washington state.
The Senators and Congressmen who vote against providing aid to the government of El Salvador were effectively handicapping the democratically-elected government in that area and paralleling the Communist line of the time.[12]
The Communist Party USA newspaper, the People's Daily World of January 30, 1990 stated:
Last weekend's meeting of the Communist Party, USA resolved to Mobilize to build the March 24 demonstration in Washington, D.C. demanding an end to military aid to El Salvador and intervention in Central America.
Ganz connection
On March 17, circa 1990 Los Angeles Democratic Socialists of America and the Socialist Community School organized a meeting at the os Angeles Workmen's Circle with Marshall Ganz, Director of the Organizing Institute.
Ganz was described as in an advertising leaflet as;
Architect of Jerry Brown's campaign for state Democratic Party chairman.
Strategist and get out the vote drives in the 1986 Alan Cranston and 1988 Michael Dukakis campaigns
Former director of organizing for United Farm Workers
Come and engage in a lively discussion about the future of the democratic party and the strategy for progressive activists working within the Party.
Supported by Council for a Livable World
The Council for a Livable World, founded in 1962 by long-time socialist activist and alleged Soviet agent, Leo Szilard, is a non-profit advocacy organization that seeks to "reduce the danger of nuclear weapons and increase national security", primarily through supporting progressive, congressional candidates who support their policies. The Council supported Alan Cranston in his successful Senate run as candidate for California.[13]
Chicano movement
The 40th Anniversary Commemoration Committee of the Chicano Moratoriums was formed in the summer 2009 by the Chair of the National Chicano Moratorium Committee of August 29, 1970 along with two independent Chicano Movement historians whom although not of the baby boomer generation, have become inspired by the Movimiento.
The organization posted a list of significant "Chicano movement" activists on its website which included Alan Cranston.[14]
References