Ah Quon McElrath
From KeyWiki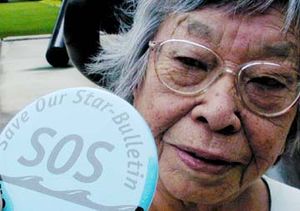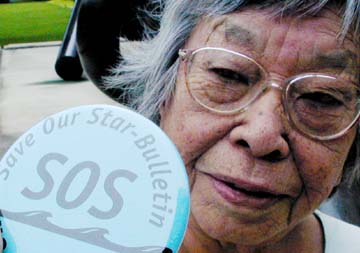 Ah Quon McElrath (born Dec. 15, 1915, died Dec. 11, 2008) was married to Robert McElrath. She retired in 1981, but pushed on with her activism on behalf of Hawaii's poor, frequenting the halls of the Legislature and taking to the streets. She died in Dec. 2008 at the age of 92.[1]
Early Life
McElrath was born to Chinese immigrant parents in Iwilei on Dec. 15, 1915, and spent most of her career as a social worker for the ILWU.[1]
Radicalization
While attending the University of Hawaii she joined the leftist Interprofessional Association and met Communist Party USA leader Jack Hall, head of the International Longshore and Warehouse Union.
McElrath was closely associated with the union during its early years in the 1940s and volunteered to sign up dockworkers. She also was married to ILWU official Robert McElrath, who died in 1995. But it wasn't until 1954 that she became a paid union social worker, a post she held until retirement in 1981.
It was through her work at ILWU that she became, along with the likes of Tommy Trask, Harry Bridges and Art Rutledge, a name synonymous with the labor movement in Hawaii[2].
Communist Party Central Committee
In 1947, the FBI released information naming the Central Committee of the Communist Party USA in Hawaii. Those named were Jack Hall, Jack Kimoto, John Reinecke, Robert McElrath, and Ah Quon McElrath.[3]
Committee on Social Welfare
With cuts in state and federal welfare assistance beginning in the 1970s, McElrath took on the role of advocate for Hawaii's poor when she joined with the Committee on Social Welfare[4].
Autobiography of protest in Hawai'i
The 1996 book "Autobiography of protest in Hawai'i" by Robert H. Mast and Anne B. Mast, contained a chapter on organized labor, with contributions from Bill Puette, Ah Quon McElrath, Tommy Trask, Liana Petranek, John Witeck.
Union rally
Legendary labor leader Ah Quon McElrath issued a "a call to action" before a Labor Day crowd in light of local union unrest and corporate disdain toward workers. "Unions are still the only organization that gives (workers) some power to control their working condition," McElrath said. "... The future can be yours. Seize it through solidarity and unity."
McElrath, an 86-year-old University of Hawai'i regent, helped organize the International Longshore and Warehouse Union in the 1930s and cemented her status with Hawai'i unions during the sugar and dock strikes of the 1940s.
At the rally she urged the 200 or so people gathered around the Kapi'olani Park bandstand to "preserve that which we have gained and move ahead with new ideas in light of the massive changes in our political economy."
Waving an ILWU hand fan from a convertible, McElrath was the grand marshal of the Labor Day parade, which included more than 20 Hawai'i unions. Dozens of union members rode and walked from Magic Island through Waikiki and ended at Kapi'olani Park with an old-fashioned labor rally.
The parade featured the Pearl City High School marching band, political candidates shaking hands, a military color guard, ILWU members riding motorcycles and even a city garbage truck retrofitted with a gigantic plywood American flag.
Gordon Lafer, an organizer for ILWU Local 142, joined nearly 200 ILWU workers and retirees who marched through the streets of Waikiki to occasional shakas and honking car horns. "Unions have done so much for the people of Hawai'i," Lafer said. "But there is so much more to fight."
In her speech, McElrath recounted global labor history through her eyes and urged local union organizers and members to strive for better. "The job can be done," she said. "It was done in the past. There is no reason it cannot be done again."
Beforehand, McElrath said organizers particularly needed to register union members to vote. "It's a crucial time because of the elections," she said, "and it's a crucial time for the dockworkers and hotel workers and airline workers."
Rep. Neil Abercrombie (D-Hawai'i) and Lt. Gov. Mazie Hirono, a Democratic candidate for governor, were more overt in speeches connecting unions to the upcoming governor's race. Abercrombie especially mocked the positions of Republican gubernatorial candidate Linda Lingle as running counter to benefits that have gone to union members for the last 50 years.
Hirono said the Democratic Party had always "stood toe to toe, side to side with labor," and expressed concern about speaking to business people who say "labor's too strong in Hawai'i." "What we need to do is work together," Hirono said. "Labor, business, government, working together. That is the new paradigm of the 21st Century."[5]
Not In Our Name
In August 2004 A Q McElrath endorsed an anti "Bush Team" Protest at the Republican National Convention in New York, organized by Not In Our Name, an organization closely associated with the Revolutionary Communist Party[6].
References